The priority for the Edmonton Oilers this season is a top-six left-winger. Fortunately, there are few decent ones available either via free agency or trade. Even more fortunate, the Oilers have some cap money to spend when other teams might not.
Should Ryan Nugent-Hopkins leave in free agency, GM Ken Holland's job will have gotten a lot harder. But, if we're operating under the assumption that the Oilers will get something finalized with The Nuge and will only be looking for one top-six forward, below are eight options that might be of interest.
Related: Oilers Facing a Dougie Hamilton Situation with Nugent-Hopkins?
No. 6: Mike Hoffman
Hoffman will probably sign back with the St. Louis Blues again this offseason, but he may want to test the free agency waters first and see if he can get more than the $4 million he got from the Blues. Hoffman tried to do this past season what Tyson Barrie did; find a good fit, have massive production and up his value. It didn't work as well for Hoffman.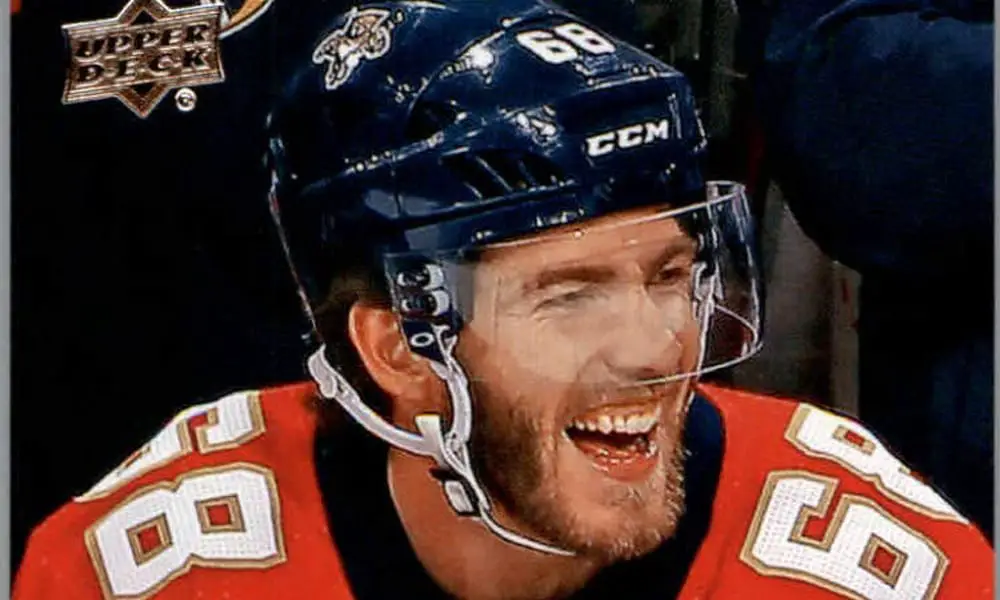 He didn't have a bad year (17 goals and 36 points), but it wasn't a 'see, I told you so' kind of season. The Oilers could do a lot worse than one year of Hoffman trying to get an ideal center to help him pot 30 goals. At 31, this offseason is may be one of his last shots at landing a decent extension that will keep him somewhere for a few seasons.
No. 5: Dylan Strome
We mentioned in an earlier story on Saturday that the Chicago Blackhawks are looking to move Dylan Strome before the NHL Expansion Draft. A lot of people immediately made a link to the Oilers and his former Erie Otters teammate Connor McDavid.
Strome is both a fit as a third-line center and a potential winger. That makes him an interesting option if the Blackhawks are looking to sell and don't mind selling low.
No. 4: Zach Hyman
I would rank Hyman a lot higher because he's an incredibly ideal fit, but there are more than a few people saying he's leaving the Toronto Maple Leafs because he knows he's going to strike it rich. There's a chance the Oilers are in on this player, which also means there's a chance they over pay.

In the first couple of seasons, it might not feel like it's that bad a deal, but if Hyman gets $6 million x six years, what are the chances that the team who signs him to that deal look back and wonder why they handcuffed themselves.
That said, if the price is right and the Oilers can get him locked in around $5 million, I would certainly make time for him if I'm Ken Holland.
No. 3: Jake DeBrusk
He's younger, he's got something to prove and he's a homegrown kid whose name is mentioned about as often with the Oilers as it is he'll be potentially traded by the Bruins. Boston has made it clear their priority is a 20-minute per night left-side defenseman. The Oilers don't have one to give, but if other dominos fall and DeBrusk needs to be moved by the Bruins to make room for other salary, the Oilers might have an opportunity to add a piece that could rebound in a new environment.
As much as the Bruins seem to be ready to move on, DeBrusk has averaged 22.5 goals per 82 games so far during his career. With the right linemates, he has the potential to explode offensively. The Oilers would need to sign him if they trade for him, so that should be taken into account.
No. 2: Brandon Saad
The Colorado Avalanche would love to keep Brandon Saad. It's going to be extremely difficult to do so considering what kind of money the team will need to allocate to other free agents and then leave money left over for when defenseman Cale Makar needs the Brinks truck backed up.
Saad is a guaranteed 20-goal guy, which is exactly what the Oilers need. Imagine the Oilers acquiring James Neal three seasons before they did. That would have been a great trade for Edmonton because Neal was still effective and scoring at a regular clip for multiple teams. There's a risk in offering too long a contract, but if Edmonton can go as high as four, even five years and it shouldn't be an issue.
No. 1: Tomas Tatar
This is a player that will likely leave Montreal because there's no future there for him. When he does, this is also a player who will have something to prove. Coming off a $5.3 million contract, Tatar knows he's taking a huge pay cut. How much of one he's willing to take to put himself in the right opportunity is unclear.
If Tatar does what Tyson Barrie did last season, he might sign a one-year deal at around $3 million and do everything in his power to knock it out of the park in a contract year. The alternative, since he's 30, is that he's looking for a team that will offer him two or three years. Considering he isn't a regular in the Montreal lineup, he might be having second thoughts about how long teams will keep bidding for his services in a flat cap NHL. Maybe he goes with the team that he's got some security with.
Another 20-goal guy, his production may dip, but he's got experience and he's excellent in 5-on-5 situations.
Other Notables:
The Oilers could (and probably should) also look at Blake Coleman, Jaden Schwartz, and Sam Reinhart if the deal is right. Coleman will likely wind up in Dallas, Schwartz may be too pricey and Reinhart going to have a lot of teams interested. I'm not sure the Oilers have the assets or would want to give up what would be necessary to make that deal happen.
Next: Bruins Priority a Left-Side Defenseman During 2021 NHL Offseason