Everyone is watching the Buffalo Sabres as Pierre LeBrun and others point out that a trade could be imminent and certainly expected before the NHL Entry Draft in a few weeks. Part of the reason the deal would get done is because the Sabres are rumored to want a first-round pick, plus others assets in the deal and that means trading that first-round pick before it's selected on July 23, 2021.
Byron Bader, the Creator of Hockey Prospecting and an NHL Draft Consultant has taken a closer look at teams who don't have to worry about the draft deadline and won't be in the running for Eichel because they don't have the assets to give. He suggests the trade is going to be big and will "likely include at least a significant roster player, an A-level prospect and a 2021 1st round pick." He adds the because Eichel is 24, signed long-term and a point-per-game player, the Sabres have to ask for a lot in order to not get fleeced on any deal, much like the team got fleeced when they moved Ryan O'Reilly.
With that information in mind, Bader listed 11 teams and gave a brief summary as to why they have no shot — unless they make other trades first to acquire what they're missing.
Related: Eichel Trade Talk Gets Serious, Kraken Open to Moving 2nd Overall Pick?
Pittsburgh Penguins Prospect Pool Is Bad
Calling it the worst prospect pool in the NHL, Bader suggests the Penguins don't have enough worthy prospects in the system to encourage the Sabres to consider them as a trade option. Not only that, but they don't have a 2021 1st round selection to trade.
Our Take: Ron Hextall and Brian Burke are looking to make changes this offseason, but those changes won't include Eichel who the Pens would probably love to have but simply don't have room for with a core that is aging. The Penguins don't seem to have the heart to trade away their big names and this new management group wants one more year with the top guns on the roster before really putting their stamp on the Penguins franchise. By then, Eichel will be in another location.
Boston Bruins Don't Have The Right Assets
Like the Penguins, Bader points out the Boston Bruins have little in the prospect pool, and certainly nothing good enough to snag Eichel away when other teams will offer a lot more. While the Bruins do have a first-round pick, a late 1st probably doesn't cut it.
Our Take: The Bruins also have some big internal housekeeping decisions to make and are focused on potential deals for Taylor Hall, David Krejci, Tuukka Rask and adding the depth pieces to make one more playoff run this coming season. Eichel would help their cause, but it would come at the expense of the core they want to keep to take another shot at the postseason. The Sabres would potentially be interested in Charlie McAvoy or David Pastrnak, but Jake DeBrusk won't cut it.
Lightning Have Absolutely No Cap Space
Forget for a second that the Tampa Bay Lightning have no first to trade and no prospects that would entice the Sabres, they also have absolutely no way to fitting Eichel onto their roster with the mountain of salary cap problems GM Julien BriseBois will be facing. The Lighting could potentially trade roster players that would get the Sabres interested, but if Buffalo is hung up on the first-rounder or the prospects, Bader suggests they won't be in the running.
Our Take: There's some good players the Lightning will have to let go this offseason, perhaps even good enough that the Sabres would be interested. The problem is, most, if not all of the players Tampa will try to move have no-trade clauses. They aren't likely to waive them for the Sabres.
Capitals Are a Long Shot
Bader didn't rule the Washington Capitals out completely because they could pool some interesting pieces together. Still, they don't have their 2021 first round pick.
Our Take: What would be interesting would be if the Sabres liked the idea of Evegny Kuznetzov, who the Capitals are likely to move. Buffalo could get an impact player back, plus a couple of assets and the Capitals would get a top-line center going with a one-two punch of Eichel and Nicklas Backstrom.
Blue Jackets Missing an Attractive Prospect
Bader writes: "The Blue Jackets have the high first round pick but they don't really have the super high-end prospect Buffalo should be demanding. Also, I'm not sure they have the significant current roster piece either."
Our Take: There are going to be some big changes in Columbus and it's hard to imagine they'd be able to put the pieces together to make an Eichel trade work, not without giving up a big star like Patrik Laine. Without Laine, Eichel doesn't make much sense.
Related: UFA Blake Coleman Interested in Return Home, Signing With Stars
Coyotes Don't Have the Right Combo
The Arizona Coyotes are are another team with no 2021 1st rounder (forfeited), but like a couple of other clubs, Bader notes they could give up a roster piece like Clayton Keller to make it work. Their prospect pool isn't deep and that would probably be a stumbling block considering Buffalo would at least want to hit a home run on one of the two mandated pieces they are looking for.
Montreal Canadiens Aren't Giving Up Caufield
The Canadiens are one of the few teams on Bader's list who have all the necessary pieces, but it's unlikely the Habs will give up the prospect the Sabres would want. Buffalo would certainly be gunning for Cole Caufield and if that's who their focused on, it's a non-starter for the Canadiens.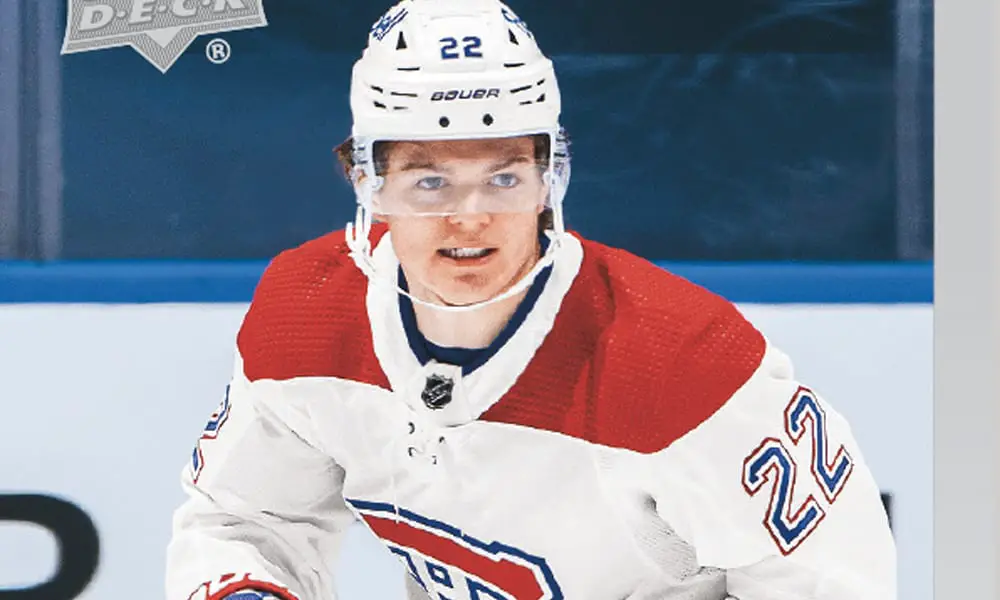 Toronto Maple Leafs Have Enough Problems
The Toronto Maple Leafs have enough going on that trying to figure out a way to fit someone like Jack Eichel into the mix seems pointless. Not to mention, they moved their 2021 first-round selection. Now, if GM Kyle Dubas changes his mind on his core four, then this is a different conversation. But because he's yet to do so, we'll rule them out for cap reasons.
The Leafs do have some high-end roster pieces and decent prospects, but a lot needs to change in Toronto for this to be a reality.
St. Louis Blues Could Be in the Discussion
Bader writes: "St. Louis Blues The Blues prospect pool is not very deep and I would guess its unlikely they could pull it off." He adds, "But perhaps some combination of Thomas, Kyrou, Neighbours and Perunovich could get them in the discussion."
There would be a lot of pieces going to Buffalo from St. Louis for this deal to work and while the two teams have a history of making big trades with each, this isn't likely.
Islanders Missing the First
Bader notes that the New York Islanders are missing a first-round pick and notes, "unless Ilya Sorokin is the prospect, they don't have the goods that Buffalo should be looking for."
Our Take: The way the Islanders are playing right now, I'm not sure the team would even be interested. They're a very strong team, coached and managed by a very strong duo. Eichel's drama might not be something they're keen to bring in.
Canucks Aren't Moving Pettersson, Boeser or Hughes
The Vancouver Canucks probably won't be in the mix because they too have salary cap issues and their biggest trade assets that Buffalo would want are the pieces the Canucks don't want to move. GM Jim Benning is unlikely to send Elias Pettersson, Brock Boeser or Quinn Hughes in any deal so it's unlikely they've have the pieces that would get Buffalo to consider them.
Who is the Most Likely of These 11?
At the end of the day, the same teams who were rumored to be in on Eichel from the start are the same team still rumored to be in on Eichel. And, this isn't just because they'd be a whole lot better with him on their roster, but because they have the picks, prospects and potentially roster pieces to make a deal work.
Pierre LeBrun of the Athletic notes: Teams I believe make sense: Los Angeles, Minnesota, Anaheim, Columbus, Philadelphia and the Rangers, among others." The Blue Jackets are the only team on LeBrun's list that made Bader's top 11.
Next: Multiple Reports Suggest Zach Hyman Leaving Toronto Maple Leafs