Jeremy Bracco was always a puzzle to me. When I first started to cover the Toronto Maple Leafs, he was the kind of player I found myself always rooting for. He seemed to always work hard, but never quite reached the top.
I wanted him to at least have a chance to have an NHL debut with the Maple Leafs; but, it didn't happen. Certainly, Bracco's path to the Maple Leafs' roster was blocked by the people who were just a little bit better ahead of him. He was a right-winger in an organization where there were a ton of other right-wingers. Who's going to surplant Mitch Marner?
Still, I was always surprised he never hit the ice one time with the Maple Leafs' club.
Related: Maple Leafs' Matthews Moving to Arizona? More Than Click Bait
Bracco Had One Shining AHL Season, Then Fell to Earth
Bracco's breakout 2018-19 season with the Toronto Marlies seemed to come from nowhere. He's had two good junior seasons with the Kitchener Rangers (and the second season also with the Windsor Spitfires), but wasn't able to translate that success into the AHL – until, his breakout season. In that season, he scored 22 goals and added 57 assists (for 79 points) in 75 games.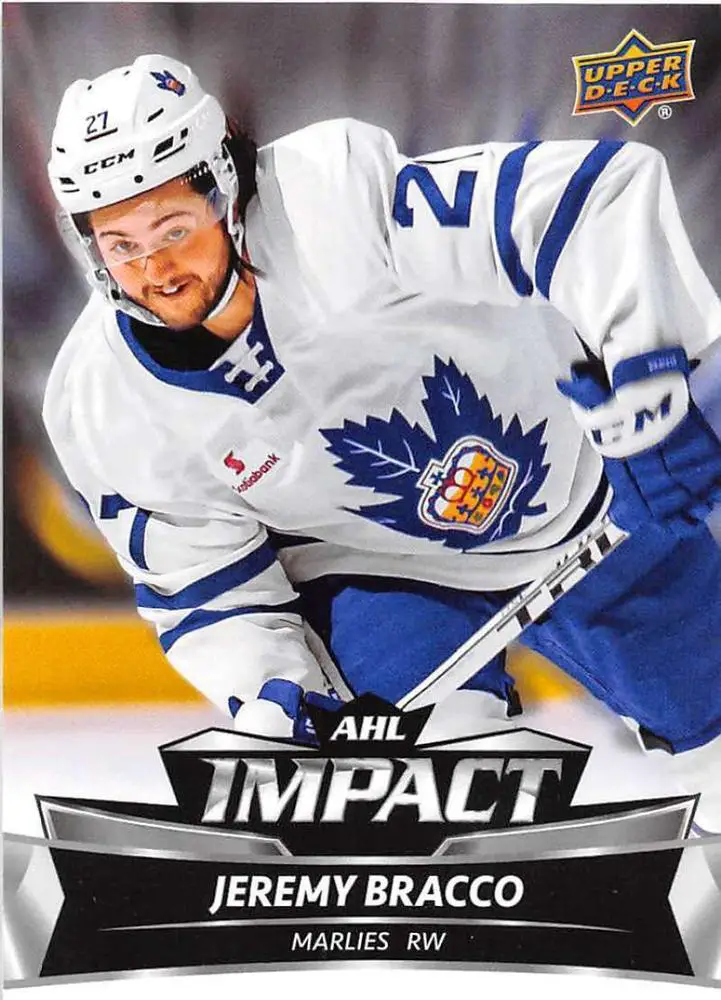 That kind of season might have jump-started Bracco's Maple Leafs' career. It did not. The next season things started to slide. His scoring slipped and, for personal reasons, he left the Marlies for a number of games. When he returned, he still scored four goals and 30 assists (for 34 points) in 44 games. But something had happened.
Bracco Sought a Trade Out of Toronto
When 2020 rolled around, Bracco saw the writing on the wall and asked Maple Leafs' general manager Kyle Dubas to trade him. Instead, the Maple Leafs simply didn't qualify him during the offseason.
In late October, Bracco signed a one-year, two-way contract with the Carolina Hurricanes. The 23-year-old Bracco attended training camp, but he was put on waivers. When he was not picked up, he was assigned to the Chicago Wolves of the American Hockey League.
In January 2021, the Hurricanes waived him to release him from his contract. He finished the season playing for KalPa in the Finnish Liiga.
Related: Maple Leafs News & Rumors: Minten, Knies, Tkachuk & Matthews
Bracco Decides to Play in Europe
Bracco played 24 games in 2020-21 for KalPa in Finnish Liiga. There he scored 17 regular season points and added two playoffs assists in four games. The following season, Bracco traveled to Germany and played there for the Krefeld Pinguine in the DEL2. He led the team by putting up 14 goals and 40 assists in 54 games.
He became an attractive addition for his new team, Barys Nur-Sultan in the KHL.
Whatever Happened to Jeremy Bracco?
So, for those Maple Leafs' fans who hadn't heard about Bracco in a few seasons, he just signed to be plying his craft in the KHL this season.
By the way, in case anyone cares, Nur-Sultan is the capital city of Kazakhstan. It's the second-coldest national capital in the world after Ulaanbaatar, Mongolia. Interestingly, that position was formerly held by Canada's capital, Ottawa. When Nur-Sultan came to be capital city status in 1997 after the breakup of the Soviet Union, it slipped and slid to the top as one of the iciest cities in the world.
Related: WHICH MAPLE LEAFS' GOALIES ARE BETTER? MURRAY+ OR CAMPBELL+