This past week, Carolina Hurricanes' defenseman Dougie Hamilton noted after their team's loss to the Tampa Bay Lightning, "We had a great season and lost to a team that's $18 million over the cap or whatever they are."
His comment had two reactions. The first was a bit of sour grapes in that it seemed to blame someone else for the Hurricanes losing. The second is that it pointed to an issue others have noted: there are ways to utilize what seem like loopholes in the NHL rules to allow some teams to have an advantage at playoff time.
Later, Hamilton seemed to back off a bit when he noted, "I'm not knocking the rules or anything. You realize how many weapons they have. If you think about how many more players you could add with that money, you realize how much deeper you'd be." [The emphasis is mine and is a comment that is key to my post – some teams year after year have more money to spend on higher quality players.]
The Lightning's forward Nikita Kucherov responded that he "didn't make the rules with the cap, it's not me. I didn't do anything on purpose. I had to do the surgery. I had to go through the whole five months of rehabilitation and when the time came, and I was ready to play." He's right, but that really isn't the biggest problem.
Related: Kucherov Has Message for Dougie Hamilton After Salary Cap Comments
Although the Postseason Salary-Cap Issue Is an Issue, It Isn't the Biggest One
Really, the argument Hamilton surfaced and Kucherov responded to only focuses on a single one-off incident during this season's salary cap in this season's postseason. The bigger issue, and one that few people seem to talk about, is that the Lightning – season after season – have a huge salary-cap advantage over the Maple Leafs and many other NHL teams.
That advantage can be found in the tax advantages that exist in Tampa as opposed to Canadian-based teams. As my hockey friend and Maple Leafs' fan Stan Smith notes, in a league where the great equalizer is the salary cap, the Lightning have a $10M to $12M after-tax advantage over most other NHL teams. 
How the Tax Advantage Works In Regard to the Salary Cap
Tampa has lower taxes than any Canadian NHL city. Two players who sign the same contract for the same numbers – say $10 million – have huge payday differences in Tampa and in Toronto. That's because each player has a different after-tax net income. They receive the same gross pay, but the after-tax net income differs significantly. 
Specifically, using the Gavin Group Hockey Wealth Specialists, which is a website that calculates the differences in after-tax income from different NHL cities, a Lightning player who signs a $10 million contract in Tampa would pay (36.64% x $10,000,000) or $3,664,000 in overall tax. However, a Maple Leafs' play who signs a $10 million contract in Toronto would pay (53.15% x $10,000,000) or $5,315,000 in Toronto.
The difference in tax paid in Toronto for a $10 million contract is an additional $1,651,000. To see the total impact of the difference, simply multiply that by 8.15 (because the upper limit to the NHL salary cap is $81.5 million) and you get $13,455.65. That's how much more money the Lightning have than the Maple Leafs to spend on salary.
The Salary Cap Is Still $81.5 Million, But the Impact Is Huge
As a specific example, when the Lighting's Steven Stamkos was an unrestricted free agent (UFA) and was talking to Toronto, the rumor was that the Maple Leafs were willing to offer him a seven-year contract at $11 million, which is exactly what they gave John Tavares to sign. According to the Gavin Group tax calculator, Stamkos would have netted $5,150,200 annually in after-tax dollars had he signed in Toronto. However, he ended up re-signing in Tampa for "only" $8.5 million. 
Again, according to the Gavin Group tax calculator, on his $8.5 million contract he took home $5,390,700 a year in Florida. For Stamkos to net the same after-tax income in Toronto that he did in Florida, the Maple Leafs would have had to pay him $11,500,000 a season. In fact, Stamkos didn't "settle for" $8.5 million in Tampa; in truth, he would have had to settle for $11 million to sign in Toronto. His $8.5 million Tampa Bay contract was worth almost a quarter of a million more than an $11 million contract in Toronto.
Tampa Always Has a Salary-Cap Advantage
This means that Tampa essentially has more than $13 million EXTRA to spend on players than Toronto and many of the other NHL teams – that includes all the Canadian cities, all the California cities, and New York. Tampa can sign more and better players because they can sign them cheaper because what seems to be the same salary-cap hit is absolutely not. To get the same bang for the buck that Tampa gets, each of the teams in the cities I noted above would have to spend $10 to $12 million OVER the current salary cap.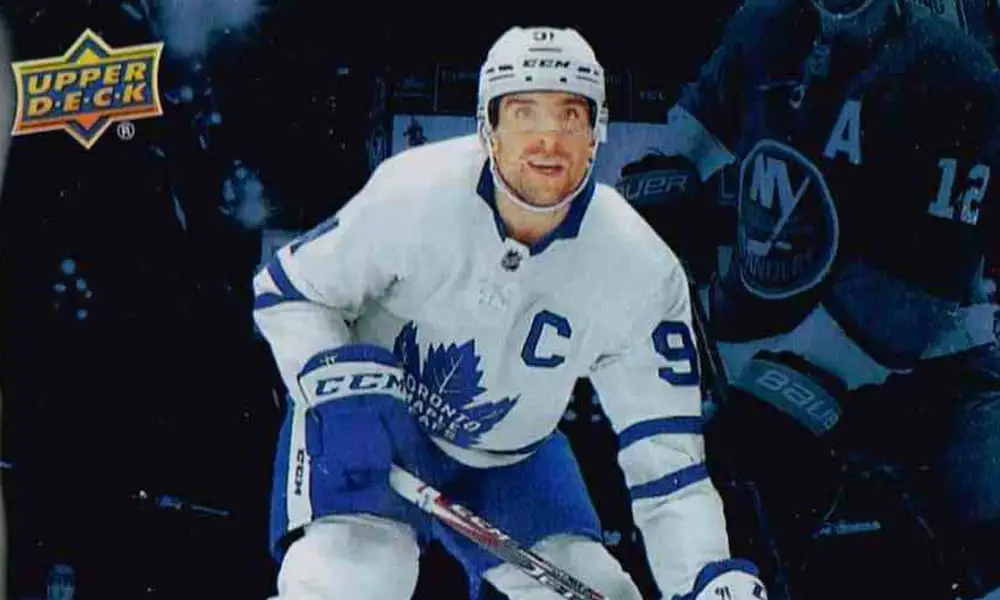 [By the way, the other US-based cities that have a similar after-tax structure include the Dallas Stars, the Florida Panthers, the Vegas Golden Knights, the Nashville Predators, and the Seattle Kraken. Each of these teams also has a huge salary-cap advantage over the Maple Leafs and every one of the other teams I noted above.]
In short, although Dougie Hamilton cried foul, he was looking the wrong way and called out the wrong issue. The bigger issue is that season after season, some teams have a huge salary-cap advantage over other teams.
Related: Maple Leafs Wanted Coyotes' Conor Garland at the Trade Deadline
Tavares Earns Less at $11 Million than Stamkos Does at $8.5 Million
Back to the difference between the Stamkos vs. the Tavares salary-cap hit, for Toronto to match Stamkos' net pay on his $8.5 million contract, it would cost them $11.5 million. Given the $81.5 million upper limit of the current NHL salary cap, after Toronto signed Stamkos (actually Tavares), the organization would have $70 million left to pay the rest of the team. Given that Tampa actually paid Stamkos more money at $8.5 million, that left them $73 million to pay the rest of the roster.  
That's the systemic issue facing the NHL that I believe is more pressing than a one-off postseason salary-cap issue during one postseason. As I noted in the title, the Tampa Bay Lightning will always have a salary-cap advantage over the Toronto Maple Leafs. Dougie Hamilton had it wrong and he had it right both at the same time. The Lightning have an advantage; he just pointed to the wrong one.