Four days ago, Michael Traikos of the Toronto Sun reported that the Toronto Maple Leafs' salary-cap problems helped led to the departures of Zach Hyman and Frederik Andersen. He then also noted that it was possible that Morgan Rielly could be the next Maple Leafs' star to leave via free agent. (from "TRAIKOS: Zach Hyman's exit could be first of many if the Maple Leafs don't start seeing playoff success," Michael Traikos, Toronto Sun, 14/09/21).
I'm buying that part of what he's selling.
Related: Maple Leafs Add Former Devil's Nikita Gusev on a PTO
What Zach Hyman Really Said about Leaving Toronto
In fact, Hyman noted as much when he said exactly that: ""Once we kind of figured out that it wasn't going to work out in my mind, the Leafs allowed me to talk to other teams," he said. "In my mind, once that happened, the door closed."
Then the article turned a corner and ventured down a blind alley. But readers should have guessed where the article was going when they read the title that suggested that Hyman's exit "could be the first of many IF (my use of capital letters) the Maple Leafs didn't start seeing playoff success.
Speculation without substantiation. There's no proof that the two things – (a) Hyman leaving and (b) lack of playoff success – have anything to do with each other. 
Hyman never said it. He only spoke about the money as a reason he left. He did speak about how painful the loss in the first-round of the playoffs was, but he never once hinted that it had anything to do with his leaving.
For example, Hyman never said anything near "I was sick of losing in Toronto. It's a losing culture. And, I had to get out." In fact, he said nothing like that at all.
In fact, Hyman said quite the opposite. Hyman said that the team had been extremely successful. He thought they were a great team, and he believed they would win. 
Painful loss, yes! A problem he needed to get away from, no!
The Loss to the Montreal Canadiens Hurt, But It Wasn't Why Hyman Left
At this week's Player Media Tour in Toronto, Hyman's exact words were: "Last year's loss was the worst I've ever experienced in my career. We were as close as we've ever been. We had a chance to win the series. The path, for us, to get to the final and potentially win was there. I thought we had a great team. The team was top in the North all year. I thought we could beat anybody. So just the missed opportunities … we had them, we were up 3-1 and we gave them life. [My highlights of the words in bold.]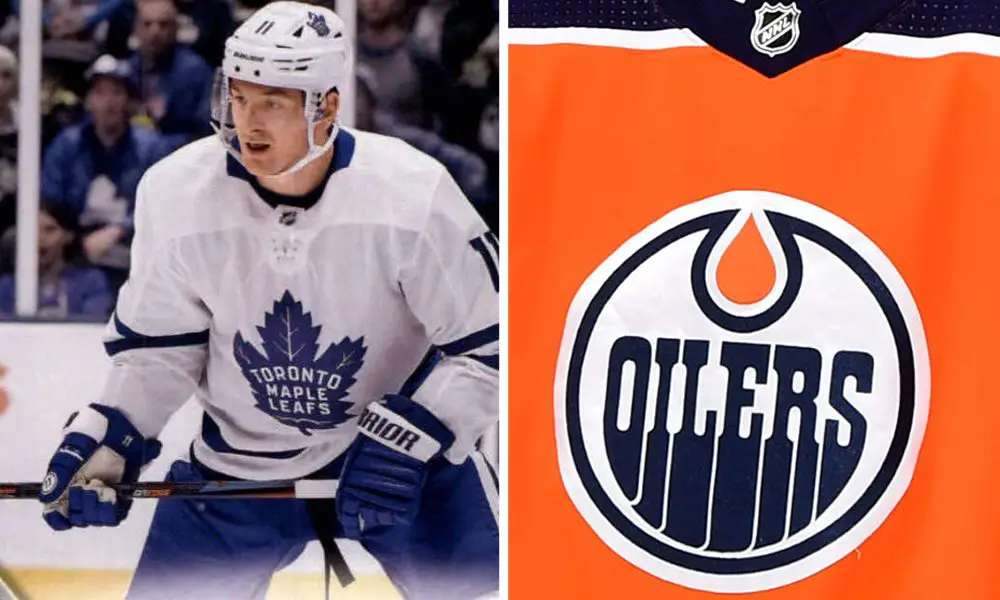 Hyman added that when the season ended for the Maple Leafs he couldn't stand to watch any more of the playoffs. "It was too hard," he said. He was disappointed and, probably in fact, discouraged. But he never linked those feelings to his need to get out of town.
So what did Hyman say? Traikos admits it exactly when he says "Hyman didn't say the first-round exit was the reason he left Toronto." Then he jumps right into speculation when he said "But it certainly didn't help. That Edmonton was willing to offer him a seven-year contract worth $38.5 million made the decision easier." 
Speculation Is Not Always Truth
Again, there's nothing Hyman said that could lead anyone to believe that the first-round loss "didn't help." There was nothing that linked that loss to Hyman's decision. It was all about the fact that the Edmonton Oilers were willing to give him seven years at $38.5 million, and Toronto was not. 
That's what Hyman said, and that's all that Hyman said. So to move to he wanted to get out from anything Hyman said is silly. Here's the exact statement in the article: "After five years of early post-season exits, it sounds like Hyman wanted out. Like he needed a change." 
No it didn't. Nothing like that was said at all, so how could it sound that way? All we know from what Hyman said is that it was about the money. To then state, "it was also about getting rid of a bad taste in his mouth that became even worse after blowing a 3-1 series lead to the Montreal Canadiens." 
No, no, and no.
Related: Maple Leafs Replacement for Hyman with Matthews: Consider Kerfoot
We Have No Idea Why Hyman Left Except What He Said: Why Not Believe Him?
I have no idea what Hyman really thought, except for one thing. The Maple Leafs weren't willing to come close to paying him what he decided he deserved, and the Oilers were. It might not have been all about the money, but that's the only reason Hyman offered. He hinted at no other reasons. 
I for one believe what Hyman is telling us, and I'm not putting words in his mouth.