The Edmonton Oilers signed Evander Kane on Friday and regardless of what people think when it comes to Kane's past, his personal problems of the lack of accountability he's taken that's led him to where he is today, there's no arguing Kane has the potential to be a difference-maker for the team on the ice. He's a legitimate top-six forward that gives the Oilers incredible offensive depth. There are few teams in the NHL that can roll a top nine like the Oilers now can.
Related: Evander Kane Speaks to Media, Oilers Fans Ahead of Debut vs. Canadiens
At the same time, questions will surround the team when it comes to whether or not Kane is enough. A short-term signing, GM Ken Holland signing the player was done for one of two reasons: he's either trying to give the Oilers the best chance of making the playoffs or he's test-driving Kane as a forward for 44 games and then considering a longer-term deal after the season. Most believe it to be the former and if so, logic would suggest the Oilers will look at other options to improve the team.
In other words, the Kane signing is not all Holland plans to do. Perhaps it's the last piece he'll add to his forward corps, but what about defense and goaltending? Specifically, goaltending has been an area of weakness for the Oilers this season, in part because players have been unhealthy and in part because they've been inconsistent. More specifically, questions about whether or not Mikko Koskinen is the guy are real.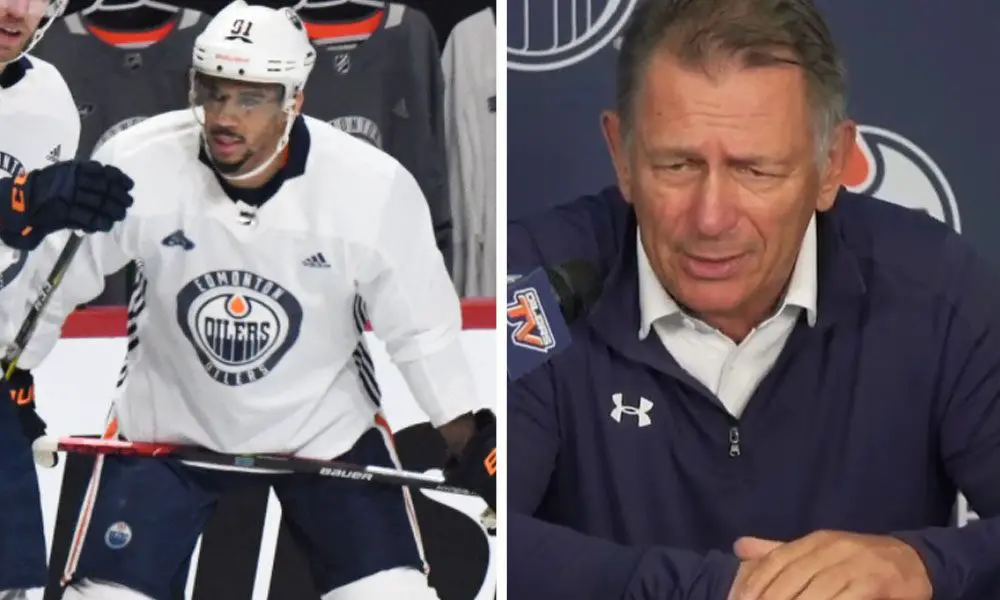 There has been a ton of chatter surrounding the Oilers and their goaltending issues. Many of the chatter quieted down when Kane was signed (easy to get distracted by the news) and the fact the Oilers have won their last three games has helped quiet things a touch. That said, as the Oilers work themselves back into the playoff mix, they'll need to address their netminding needs and Edmonton has been connected to almost every available goalie.
Who Are the Oilers Looking At?
Among the names Sportsnet's Elliotte Friedman tossed out there are Martin Jones from the Philadelphia Flyers, New York Rangers' Alexandar Georgiev, plus Braden Holtby and Anton Khudobin of the Dallas Stars. There has been some mention of Ville Husso out of St. Louis, Joonas Korpisalo out of Columbus, Vitek Vanecek from the Capitals, and the Islanders' Semyon Varlamov.
The real question will be if the Oilers really go all in and make a play for a bigger name. Can Holland swing a deal that would see them land Jeremy Swayman or Marc-Andre Fleury? It seems like a stretch, but if Kane comes in and plays great for the team, Holland might be enticed to make another big move to give Edmonton and fighting chance.
Next: Flames "All In" Thanks to Tkachuk, Gaudreau Contract Uncertainty?