It's been a few days since we revisited what's happening with the Pittsburgh Penguins and how things are progressing under new management. The team has a decent record in the month of March, but there is still plenty of talk about potential trades and buzz surrounding the club's top names as the NHL deadline approaches.
We've all heard the talk when it comes to players like Sidney Crosby, Evgeni Malkin, and Kris Letang. But, what about some of the other players, the ones who might not got as much attention?
Related: Buffalo Sabres "Wide Open" for Business Headed into NHL Trade Deadline
Josh Yohe of The Athletic took a look at some of the more likely trade options, listed players he didn't think would be going anywhere and discussed what the plan might be for some of the bigger-named stars. He broke things down into interesting categories.
First, he had the "Untouchables" which included names like Crosby, Tristan Jarry, John Marino, and Pierre-Olivier Joseph. He moved on to "The Wildly Unlikely But 'Hockey Trade' Division". There he added names like Bryan Rust, Jake Guentzel, Jason Tucker and others.
Yohe believes there's a group of players both Ron Hextall and Brian Burke will have no loyalty to because they didn't trade for or draft the players, but things get more interesting when it comes to some of the names that are potentially on the move.
Penguins Who Could Be Dealt
Yohe contends that forward Jared McCann looks lost and that the Penguins don't exactly know what he is. One kind of player for his first season with the club, this season, "he hasn't been helping the Penguins win for a while and makes almost $3 million annually." Yohe suggests he be traded to a team like Detroit or Ottawa where he can get a ton of ice time.
Yohe also suggests that Marcus Pettersson and Colton Sceviour are likely trade candidates. Pettersson isn't an obvious trade candidate but other factors may lead to him being dealt. As for Sceviour, he isn't impressing anyone on the current coaching staff.
What About Letang and Malkin?
Yohe writes that the Penguins probably won't trade Letang, even if they're tempted too. Yohe writes:
He's been really bad for his standards, which are extremely high. But how much would the Penguins reasonably get in a trade for him? Other teams are watching how he's playing, too. He's going to be 34 in April. He's had many health issues. And he's a free agent in 18 months anyway.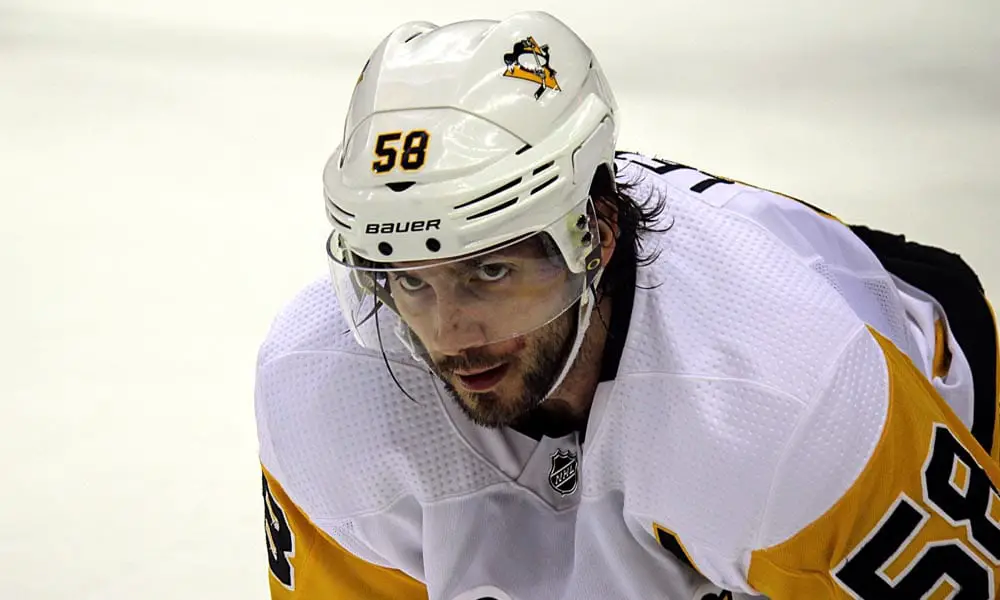 As for moving Letang to free up salary cap space, Yohe cautions that the result would be asking Ceci or Ruhwedel to play top-four minutes. Is that really the best idea?
When it comes to Malkin, if the right offer came along and Malkin was willing to waive his no-trade clause, there might be a deal there. Ultimately, while Yohe writes that Malkin in not untouchable, "Geno stays put for now."
Next: Scribe Suggests Nick Foligno Connected to Maple Leafs in Trade