This time it wasn't the Toronto Maple Leafs on the winning side of a shutout. The Pittsburgh Penguins turned the tables and beat Toronto 2-0 on Saturday night. It was the second shutout Penguin's goalie Tristan Jarry has had in a row. In his last game, his team held the Montreal Canadiens to zero goals as his team won 6-0.
The Penguins' win snapped the Maple Leafs' five-game winning streak. Furthermore, it was the first time Pittsburgh has won two games in a row all season. Given the Penguins' 7-1 win over the Maple Leafs on October 23, they seem to have the Maple Leafs' number and have outscored them 9-1 in the last two games.
In this post, I'll share my three takeaways from this game.
Related: Maple Leafs' Joseph Woll to Start Sunday Against the Islanders [Report]
Takeaway One: Jack Campbell Can't Stop Everything
Jack Campbell didn't play poorly in the game last night; however, he gave up two goals on 31 shots in the 2-0 loss. I can barely recall the last time Campbell had given up a pair of goals in the first period – it was that long ago. He probably would have wanted Jake Guentzel's goal back, but the goal scored by Jeff Carter came off a good pass but was a puck-bouncing fluke. Campbell had no chance.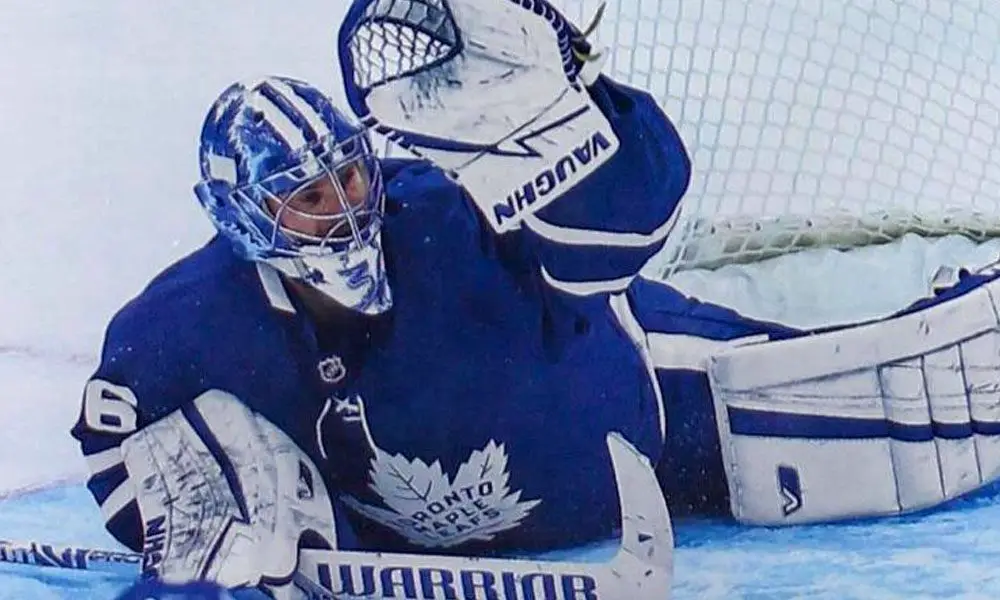 Although Campbell held the Penguins off the scoreboard during the last two periods, his own team couldn't score and those two first-period goals were the difference. Although Campbell started the game as the NHL goalie leader in a number of categories, that doesn't mean he'll will every game he plays. Nor will he be able to stop everything that comes his way.
Tonight was one of those nights. He played well, but his opponent – helped by the iron – played better.
Takeaway Two: You Can't Win If You Can't Score
Even when the Maple Leafs were winning recently, they weren't lighting up the scoresheet. That's all well-and-good if you're holding the other team to fewer goals than you score. Tonight that wasn't the case, and the Maple Leafs' lost. The team didn't play particularly poorly, nor did they panic and make preventable mistakes. They just didn't score, and that's the simplicity of this game. The team that scores the most goals wins the game.
The upside to playing good defensive hockey is that a team is always in the game. A team can win without scoring a ton of goals. One first part of that formula was was the case tonight: the Maple Leafs were in this game. But the downside to playing good defensive hockey but not scoring many goals is that, when the other team scores a couple, you might be toast. Tonight the team's lack of scoring burnt them.
In short, no team can win if they don't score. And, the Maple Leafs couldn't score and didn't win.
Takeaway Three: Auston Matthews Is Not Dominating the NHL This Season
Obviously, Auston Matthews didn't score a point in the 2-0 loss to the Penguins. He had five shots on goal, but none of them went over the goal line. While he has seven goals and eight assists (for 15 points) in 16 games for the 2020-21 season, he's simply not dominating the goal-scoring like we are all used to. That's a huge change for him.
During his NHL career, after his first season when he wasn't a point-a-game player, Matthews has become a point-scoring machine. He's easily been more than a point-a-game player over his last four seasons. I can't see his fans giving up on him; however, this season might be an invitation for all of us to lower our expectations for this great young star.
Time will tell. But, as of this moment, Matthews isn't the dominant player he's been. He did everything but score and that mattered tonight.
Related: Three Takeaways from Maple Leafs' 2-1 Win Over the Rangers