According to reports and contrary to previous news that Edmonton Oilers' general manager Ken Holland might be willing to move the team's first-round draft pick in a trade before this year's NHL Trade Deadline, that first-rounder is now off the table. This, among other topics, are likely to be addressed as there are plenty of questions currently surrounding the organization.
Related: Oilers and Avs Among Top Teams Interested in Carey Price Trade
It's not clear why and Holland may offer up more details when he meets with the media on Tuesday morning, but this is huge news if accurate because it likely means the Oilers aren't going to go all in to improve holes on their roster and make a run this season towards the Stanley Cup.
In previous months, there's been a ton of chatter that the window to win in Edmonton is growing smaller. Holland added big pieces this offseason and the intent was to finally be a team that went deep in the playoffs. Unfortunately, after a hot start to the season where the Oilers scored in bunches, Edmonton has lost 11 of their last 13 games and are currently sitting on the outside of the playoff picture. Is Holland about to say that this season hasn't worked out the way he'd like and he's not willing to give up a valued asset in a first? Or, is he about to tell the fan base that he doesn't think the Oilers need it?
Elliotte Friedman noted during his most recent 32 Thoughts podcast that, after another game was postponed and Holland has six days to make decisions and Friedman noted "he was asked about his first-rounder and he said no." Friedman added that team isn't 16-5 anymore. Friedman believes Holland isn't going to trade his first-rounder when the team is playing so poorly.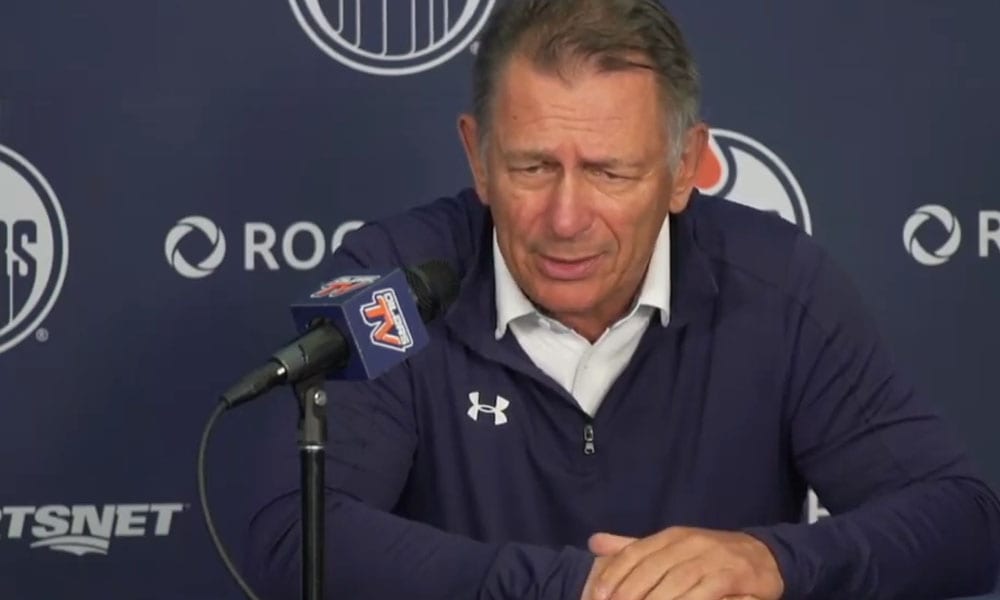 The NHL insider also noted:
"…we've talked about it before on this podcast and Holland has said before this year that he'll move the No. 1 pick if the team's in it… if you look Edmonton's draft situation this year, their fourth-rounder was already traded away, New Jersey's got it in the Kulikov deal and their second a third-rounders, in the Duncan Keith trade, it depends on how far the Oilers go."
Holland Needs Time to Reassess
Friedman said that Holland would rather get his team back, have everyone healthy, see where they're at, and know that once the players all test positive once and return, they won't be tested again. That will give the Oilers a better idea of really what the team is or isn't. From there, he can decide on what happens with that draft pick.
Holland still believes this is a playoff team and he expects the Oilers to get there, but when this is where the team is in the standings, he's not going to go out and mortgage a part of their future by adding a rental that will make little to no difference.
The one thing that likely won't happen at Tuesday's presser is the announcement of a new head coach. For now, it sounds like Dave Tippett's job is still secure.
Next: Maple Leafs Among 6 Teams With Rumored Interest in Evander Kane