With the news that Carey Price will be taking some time away from the Montreal Canadiens, this might be a good time to look at who the human being is, what he's meant to the game and how he's impacted the NHL in a number of ways.
Not only is the goalie Carey Price mega-talented, but he's also one of the good guys. He's the kind of a player that an NHL franchise should be built around. Price has been a fixture in the Canadiens lineup, all while providing the Canadiens with incredible goaltending over a long stretch of time. In this era where NHL players often move from team to team, Price is an oddity.
It's difficult not to think of Carey Price when you think of the Montreal Canadiens; it's as if he's always been there. But Price had to overcome a number of obstacles just to get the chance to play hockey.
Specifically, his rural community had no indoor arena or hockey program, so he had to skate on the river next to his home. However, he showed so much promise that, at the age of 9, he began commuting back and forth to the nearest arena to play and practice. That arena was located in Williams Lake, and three times each week the Price family drove the 640 km round trip. Sometimes, when the weather was good, Carey's father, who was a pilot, flew a small plane so that Price could play.
Carey Price's Aboriginal History
Price is of Nuxalk and Southern Carrier Aboriginal heritage. His mother Lynda was the first woman ever elected to the board of directors for the Union of BC Indian Chiefs.
Price has always been proud of his own Aboriginal background and supportive of First Nations' initiatives. During the 2014-15 NHL season, Price won three awards: (a) the NHL Hart Trophy (voted by sportswriters), (b) the Ted Lindsay Award (voted by players), and (c) the Vezina Award for best goaltender.
When the awards were presented in Las Vegas, during his acceptance speech, he used the opportunity to talk directly to First Nations youth about their places in society and within their communities. He encouraged them to become community leaders and to take pride in their heritage.
He specifically encouraged First Nations youth to be proud of their heritage, and not to be "discouraged by the improbable."
Carey and Angela's Charity Work
True as his word to First Nations youth, Price leads by example and has always tried to give back to the community. Carey and his wife Angela met when he played junior hockey with the Tri-City Americans in Washington state. Together, Carey and Angela are involved with several charities in both the Montreal area and throughout Canada.
Price knows it's teamwork between him and his wife. When he received the Jean Béliveau Trophy awarded annually to a Montreal Canadiens' player who's worked extensively with charities and in Montreal, he thanked his wife by saying, "I think my wife deserves her name on the trophy more than I do, she's really the catalyst behind a lot of the work."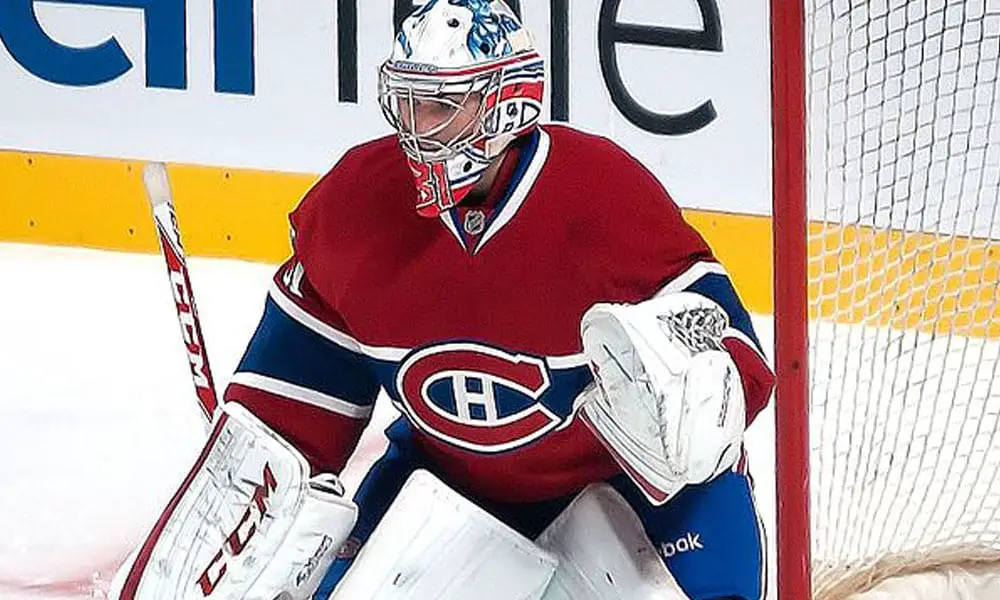 Both Carey and Angela consider their charity work as giving back to their community. Each Montreal home game, they donate a pair of tickets to a deserving student and that student's mentor. Those tickets also contain a special gift – a "meet-and-greet" with Carey. This donation is part of a "Stick with School" program that the Prices created.
Both Carey and Angela build work personal connections with the charities they support. Specifically, Carey accepted the role of Ambassador to First Nations kids through the Breakfast Club of Canada. In this role, he has overseen the provision of thousands of meals to children in Price's hometown of Anahim Lake, BC, and throughout Canada.
Carey Price: A Class Act and Playoff Stud
The Canadiens are lucky to have a class act like Price as their goalie. Price is a model for how hockey players can give back to their communities. He's never forgotten his own background and the difficulties he and his family have had to overcome so he could become a hockey player. He pays back; and, because he does, others benefit.
As for what was expected of him this season.. he'll be missed, but the Canadiens believe they've got a couple of good options to fill in during his absence. The more important thing is for Price to get well, whatever that means. If it takes 30 days or it takes longer, as Bergevin pointed out, there's a lot of life after hockey and that's what's important here.
Next: Corey Crawford Officially Announces Retirement from NHL