Erik Kallgren's string of success was too good to last. One thing is sure: regardless of the Toronto Maple Leafs 6-3 loss to the Nashville Predators on the road, Kallgren came in when he was needed and delivered much better than anyone expected. Loss or no loss, it's been a good week.
Kallgren let in five goals tonight and – finally – looked like a rookie. Auston Matthews returned to play his first game after completing his two-game suspension and scored his league-leading 46th goal of the season. Mitch Marner continued his hot scoring.
But, after that, the game look like it belonged to the Predators from the first period on. Every time the Maple Leafs responded, the Predators answered. In the end, they doubled the Maple Leafs' total in goals.
In this edition of Maple Leafs' takeaways, I'll share what I believe are the three key takeaways from the game.
Related: Maple Leafs' Line Combinations & Changes for Predators Game
Takeaway One: Erik Kallgren Is, After All, a Rookie
The Predators cut into Erik Kallgren's psyche last night when they scored five goals on 33 shots in the 6-3 loss. Unlike his other games, the team didn't stake Kallgren to any lead. He looked strong enough for the first period, but then slid toward increasingly ordinary for the remainder of the game. 
Kallgren was still steady in goal – not a lot of moving parts, but the Predators simply got pucks past him. He seemed to lose sight of pucks in close and his Maple Leafs' teammates didn't do the same stellar job clearing pucks from his crease.
Still, as I noted, Kallgren was going to lose a game sooner or later. Tonight was his first loss in a starting role. It took four games before he looked mortal, but that's exactly what the 25-year-old Swedish goalie looked last night. 
Now the trick is to see how well he rebounds from a down game. I don't know if the Maple Leafs' coaching staff will choose to start him or not against the New Jersey Devils again on Wednesday; but, how Kallgren does in his next start will tell more about what this young goalie has in his tank.
Related: Maple Leafs Have Zeroed In on Mark Giordano From Kraken
Takeaway Two: This Mitch Marner Goal-Scoring "Thing" Might Be Here to Last
Mitch Marner scored two goals and added an assist in last night's game. He got on the scoresheet in some way for every goal the Maple Leafs scored on the night. However, for as good an individual performance as he had, it didn't push his team over the top. Sandwiched between his own two goals was Matthews' goal. 
For the season, Marner has now scored 26 goals and added 42 assists (for 68 points) in 53 games. His 26 goals tie his career-best season when he scored 26 goals in 82 games. Could he get 40 goals on the season? It's possible given the way he's been playing.
After returning from his COVID-19 experience and his injury, Marner seems to have flipped a switch. Where he was once an assist machine, he's now a legitimate threat to score goals. He's looking to score rather than pass.
Takeaway Three: Every Time Ondrej Kase Goes Down, I Shudder
I admit that I love seeing the way Ondej Kase plays. He's a buzzsaw. Tonight when he caught what look like an elbow – not on purpose – from Matt Duchene and ended up crawling off the ice, the accident made me realize just how difficult it might be to keep him in the lineup.
If Kase can't play, he will be missed. He's about as versatile as they come and he's skilled. Prior to last night's injury-shortened game, he had scored three goals in three games – one in each game.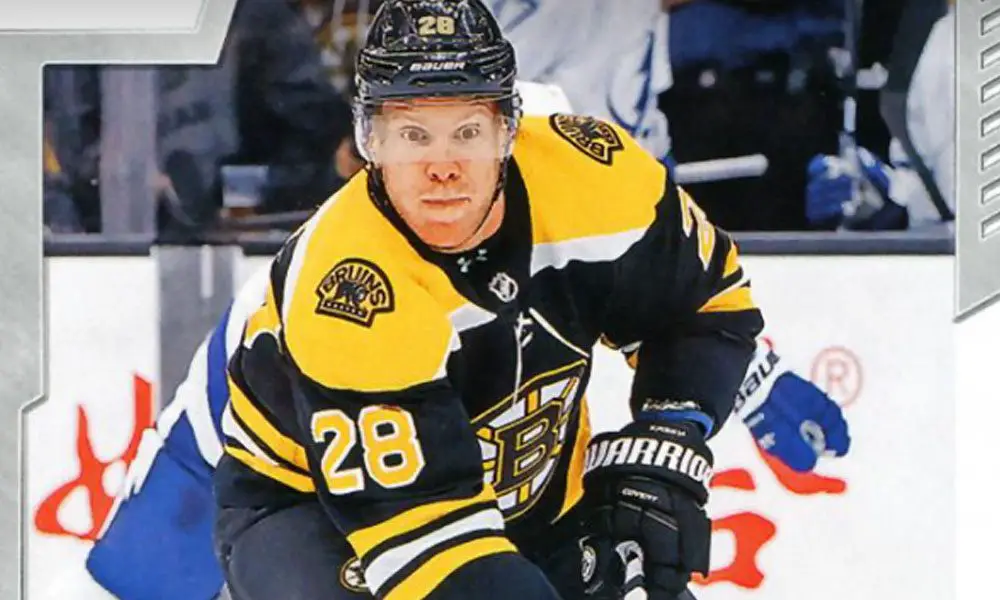 Kase was placed in the NHL's concussion protocol after his head injury. Later in the game, the Maple Leafs announced that he would not return to the game for precautionary reasons. I hope that means that he might be ok, but the team's medical staff was just waiting to see for sure.
Related: Five Reasons the Maple Leafs Should Play Erik Kallgren Until He Fails