As per a report by Frank Seravalli of The Daily Faceoff, things are starting to get interesting — as if they weren't already for a number of Oilers fans — when it comes to rumors the Edmonton Oilers are talking with the Chicago Blackhawks about a trade for defenseman Duncan Keith. The Oilers are said to be interested and Keith is said to want to leave Chicago to be closer to his family in Penticton. The hold up might be the ask as both sides have lines in the sand they don't want to cross.
Related: Insider Suggests Oilers Might Acquire Zach Hyman's Negotiating Rights
For the Oilers, it's about not giving up too much to acquire an older player with a high salary cap hit. Edmonton has a lot they want to do this offseason and adding Keith's $5.38 million contract for two more seasons is problematic, even if they can technically make it work since Oscar Klefbom is unlikely to return. For the Blackhawks, they don't want to retain salary because their plan is to go after bigger fish on the trade or free agency market.
Seravalli shed a little light on the where the two sides might be at now and what the latest scoop is. He said, "To touch on the Duncan Keith situation for a second with the Oilers, my understanding is that there is definite interest there, but I think that interest and paying a certain price has waned in the last week or so."
He goes on to explain:
The Oilers have had discussions with the Chicago Blackhawks. First off, there's two things in play. One, Chicago is not willing to retain any salary, And the second thing is, whatever pieces the Oilers had on the table to try and make something happen, and I believe it centred around Caleb Jones plus something else, and you can understand why Jones was part of the picture because Chicago wants to also try and bring in Seth Jones, my understanding is one or more of those pieces has since been removed.
Servalli closes with, "Edmonton has offered a take it or leave it type deal and there's only a certain price they're willing to pay given that Chicago isn't willing to retain money."
What To Take From Seravalli's Comments on Keith to the Oilers
There's a lot to digest here. First, if Seravalli is correct (and we'll assume he is), this means the Oilers have contemplated and might be open to accepting Keith's full salary. For a lot of Oilers fans, that's going to be a tough thing to let sink in. One might think Edmonton would be able to pawn off a piece they don't want in exchange for taking that full cap hit, especially when you consider not many teams can or would. Add in the fact that Keith only wants to go to one or two teams, why would Edmonton offer up so much?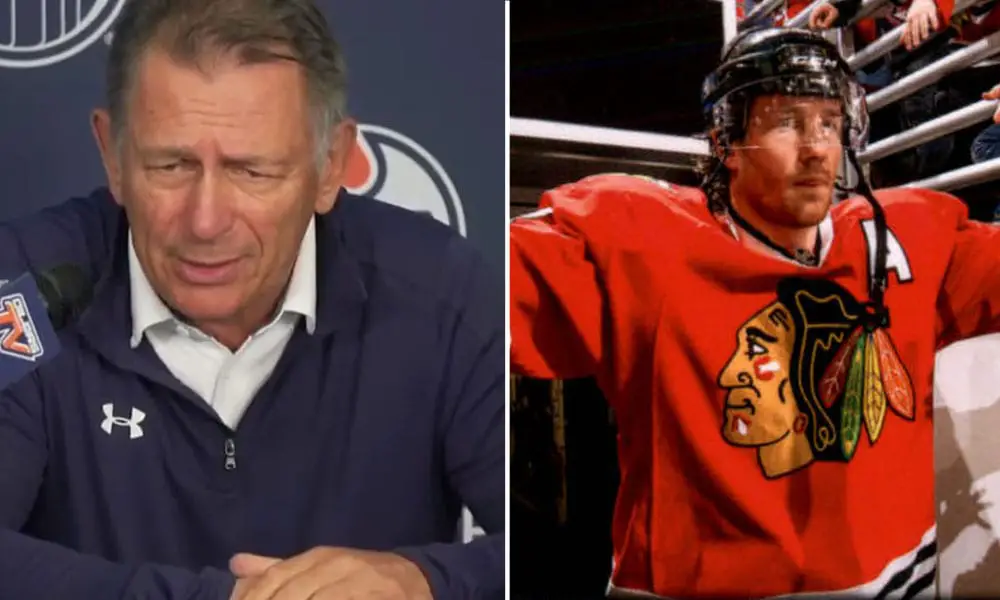 That leads us to the second thing, which is that the word "multiple pieces" was used. Now, we don't know what that specifically means. It could be that Edmonton was including a player, a pick and a prospect. It could mean the player was a bloated salary Holland was trying to dump. For example, if he was trying to throw Mikko Koskinen into the mix, this should probably be viewed as addition by subtraction. It's a net gain for the Oilers if they can land a different goaltender. But, that may not be what it is.
The biggest concern for fans is that Holland is reportedly offering multiple pieces and is willing to take on the full salary for Keith, thus dramatically overvaluing the player and misreading the market. Keith has the potential to be a useful player for the Oilers, but many will argue that adding his leadership or his experience does not equate to getting fleeced on a deal by his name had a lot of cache and he'll one day be in the Hall of Fame.
Oilers Fans are 50/50
There are many fans on social media today suggesting this is a good move by Holland. If you know you've got Chicago by the gonads, lower your offer until they crack. If they're in a hurry to get this done, sit back and watch them squirm. Other fans are all worked up over the fact the Oilers were even in the Keith trade conversation in the first place and have now learned they've offered multiple pieces at one point to land him.
As for what pieces are on the table… that's unclear. Caleb Jones has been the name tossed around. He seems the most logical option for both sides.
Next: Corey Perry Not Ready to Retire, Wants to Return to Canadiens