In this edition of Toronto Maple Leafs' Quick Hits, I'll take a look at a former Maple Leafs' player who will be returning to Scotiabank Arena tomorrow night with his new team. That's Nick Ritchie.
Second, I'll share the good news that Jake Muzzin has returned to skating after his concussion. That's really good news for the team.
Third, I'll spend some time commenting about Michael Bunting's possibility of winning an award this season. Some people (myself included) believe it should be the Calder Trophy as the team's best rookie, but other people think he's simply too old. However, is there another award he might win?
Related: Four Takeaways from Maple Leafs 6-4 Win Over the Kraken
Quick Hit One: Has Nick Ritchie Found a Good Home?
Tonight the Maple Leafs play a game against the Arizona Coyotes and former player Nick Ritchie. As most fans know, Ritchie had a tough time in Toronto. He just never lived up to his billing and most fans couldn't wait to move him out of town. In fact, they were surprised that Maple Leafs' general manager Kyle Dubas got anything for Ritchie.
The Maple Leafs' brought in the physical, right-handed, defensive-minded Ilya Lyubushkin. He's been a nice steady player for the team in the games he's played.
For fans like myself, I like to see where former Maple Leafs' players land and how they do there. For anyone watching, Ritchie scored two goals and added an assist two nights ago when the Coyotes beat the Detroit Red Wings by a 9-2 score.
In his short time – five games – with the Coyotes, Ritchie now has three goals and two assists (for five points). He's been a point-a-game player with the Coyotes since he was traded by the Maple Leafs. Obviously, a change of scenery was just what the doctor ordered.
Interestingly, it took Ritchie 33 games with the Maple Leafs to score the same number of goals. Playing in Arizona invites a lot less scrutiny than playing in Ontario's capital city and a hotbed of Canadian hockey. Phoenix is probably an easier market for Ritchie to play in.
Related: Maple Leafs' Quick Hits: Considering the Quirky Issues with Goalies
Quick Hit Two: Jake Muzzin Is Back Skating
Jake Muzzin, who was out with a concussion, has resumed skating. He was back on the ice on Tuesday for an optional skate and, in the videos I saw, he looked steady and smooth on his skates. However, Maple Leafs' head coach Sheldon Keefe reported that there was no timeline for Muzzin's return.
The 33-year-old Muzzin was placed on the long-term injured reserve (LTIR) after he suffered a concussion. He's not eligible to come off LTIR until March 18. His last game was on February 21 against the Montreal Canadiens.
Quick Hit Three: Michael Bunting for the Masterson Trophy
Should Michael Bunting win the Calder? I think he should be eligible to be in the consideration and the final vote should be about merit.
However, I might be in the minority. Many fans believe that, although he might be the best rookie in the class, the fact that he's now 26 years old should eliminate him from consideration. That doesn't mean that they think Bunting isn't good – just too old.
Even Maple Leafs' fans wonder how he could be in the AHL just a season ago and then become a 20-goal scorer this season (with also 26 assists). Plus, they believe that he's got life easy playing with Auston Matthews and Mitch Marner on the team's first line.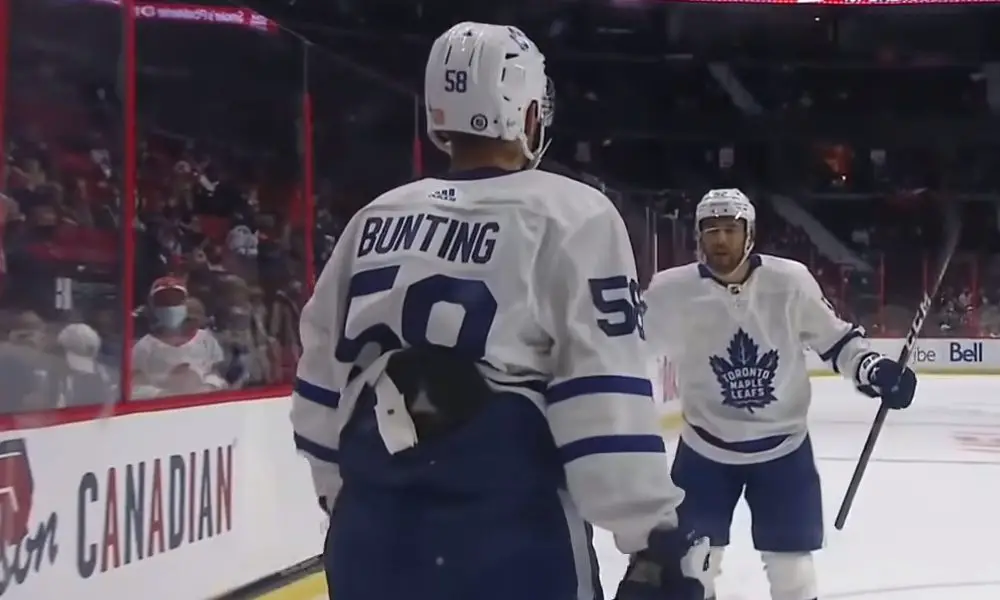 I think that, because he's officially elibible, Bunting should be officially considered. He has has lots of hockey smarts; and, he's physical and willing to go to the dirty areas of the ice to score. In fact, I think he adds more to the first line than many fans think. To my eyes, the first line is no longer a score-from-the-outside unit.
The first line is scoring goals in close; and, that's due to Bunting's impact on the unit. One reader (Old School) noted that Bunting was the "line's spark plug." Old School then suggested that, perhaps Bunting might not win the Calder Trophy; however, "How about a Bill Masterton Trophy for perseverance, sportsmanship, and dedication to hockey. A perfect fit."
Related: NHL Announcers Fooled By Fake Trade Between Leafs and Canadiens