The Toronto Maple Leafs are having goalie issues. The same goalie who played well enough to get the team to where it is in the season now – Jack Campbell – is now having troubles in the net. Over the past few games, both starter Campbell and backup Peter Mrazek have let in what seem to be some pretty soft goals. At least for Campbell, these are goals he would've saved earlier in the season.
In this edition of Maple Leafs' quick hits, I want to consider issues with the Maple Leafs' goalies and goalies in general. As far as the Maple Leafs go, is there something the team can or should do? Are the two goalies the Maple Leafs have good enough to carry them into the Stanley Cup playoffs and be successful? Is there another goalie somewhere who might be the answer to the team's questions?
Or, is it even the goalies' fault? Could the issues that result in goals being scored be more the team's defense playing poorly in front of the goalies? Or, is it the play of the goalies themselves?
It's easy to see there are a lot of questions. This post will try to consider some of them. Obviously, not all of them can be considered or answered. However, questions about the goalies are central on the Maple Leafs' checklist of things that need to be fixed.
Related: Three Takeaways from Maple Leafs 5-4 Loss to the Canucks
Issue One: Is a Three-Goalie Rotation Possible?
It's probably unlikely that the Maple Leafs can now bring in a bonafide star goalie without mortgaging the future. But is there another solution? Might someone in the Toronto Marlies system be ready to step up to play – at least to give some rest of body and mind to Campbell?
The one goalie on the Marlies' roster who's played well is Erik Kallgren. On Sunday he beat the Cleveland Monsters to move his AHL record on the season to 15-7-1, his goals-against-average to 3.02, and his save percentage to .904. Friends who watch the Marlies more than I do rave about Kallgren. We've already seen Joseph Woll this season, and he's looked OK. Is it out of the realm of possibility that one of these goalies could get in a game or two?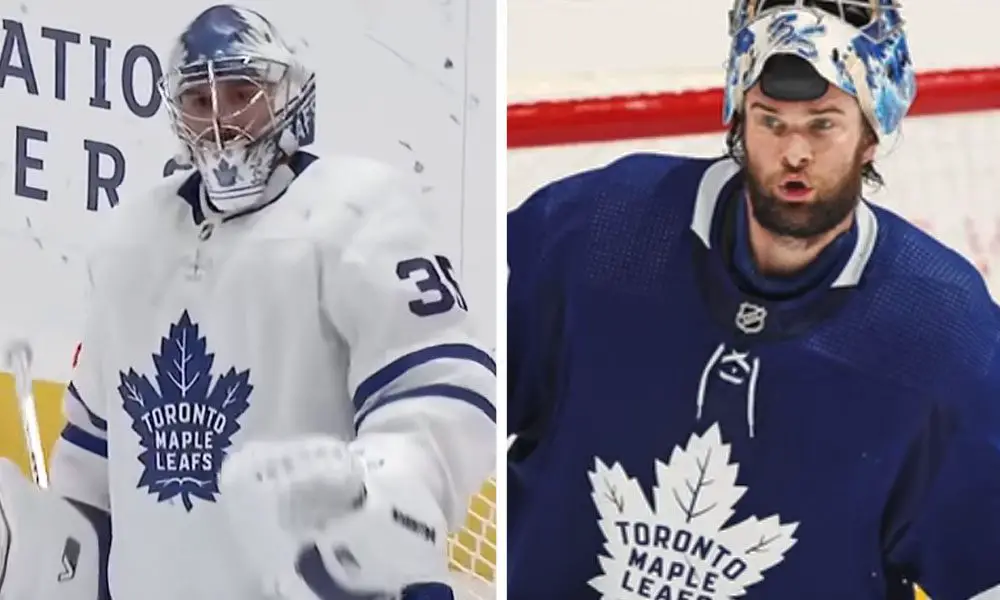 Is it even possible that a three-goalie rotation that might include Woll and/or Kallgren could give the two main goalies a chance to rest with the spate of games in April? Certainly, the upcoming schedule includes tons of action and possibilities for such a move because of pandemic-postponed games would be coming so quickly.
Issue Two: Jack Campbell Isn't to Blame for Every Goal
There's no doubt in my mind that Jack Campbell needs to play stronger in the net. However, as noted above, he's still the biggest reason that the Maple Leafs got off to a great start on the season. Certainly Campbell has some issues to fix, but the team in front of him regulary seems to leave him hanging out to dry by failing to clear the puck from the front of the net.
Perhaps Campbell Wasn't Leaky
In fact, long-time Maple Leafs' fan Stan Smith (who regularly co-writes with me) noted that Campbell couldn't be blamed for most of the goals the Canucks scored on Saturday night. He doesn't think Campbell played badly against Vancouver. Although he thinks "it would have been nice to see him stop one or two of the goals," he also doesn't believe any of the goals can be blamed solely on him.
Looking at All Five Canucks' Goals
Below Smith goes through each of the goals the Canucks scored:
On Goal #1, J.T. Miller deflected the original shot and Campbell had to be quick to stop it, let alone control the rebound. Timothy Liljegren had Miller covered, but let him get away to knock in the rebound.
Goal #2 deflected in off T.J. Brodie's leg.
On Goal #3, Brock Boeser was left alone in front of the net and deflected the original shot. That prevented Campbell from gloving it and he knocked in the rebound out of midair.
On Goal #4, Brodie failed to box out Tanner Pearson or control his stick. Pearson deflected the shot into the net.
On Goal #5, Bo Horvat's shot ping ponged off Auston Matthews' stick and Mitch Marner's skate right onto Alex Chiasson's stick for an easy tap in.
Related: Will the Maple Leafs' Mitch Marner's Scoring Ever Slow Down?
Issue Three: The Playoffs Are Different than the Regular Season
Signing a goaltender can be like rolling the dice. You can never tell what will happen with a goalie. This season, Campbell was absolutely unbeatable until he suddenly could be beaten. Goalies are great one season and can't stop a thing the next – then they repeat the cycle. Or they play wonderfully well for one team and fall on the scrap heap for another.
Rarely, goalies play constantly above average every season. Obviously, there are exceptions such as Martin Brodeur or Carey Price. However, for every Patrick Roy there's a Cam Talbot, Devan Dubnyk, or even Jordan Binnington.
The Emergence of Dwayne Roloson
Still, sometimes a so-so goalie will come onto a team in just the right situation and play lights out. Sixteen years ago tomorrow (March 8, 2006) Dwayne Roloson was traded to the Edmonton Oilers for a first-round pick. He went on to lead the surprising Oilers almost to the 2006 Stanley Cup by posting a 12-5 record, a 2.32 goals-against average, and a league-leading .927 save percentage in the playoffs. The Oilers took the Carolina Hurricanes to seven games with back-up goalie Jussi Markkanen when Roloson suffered a season-ending knee injury in Game 1 of the Stanley Cup final.
The Case of Anton Khudobin
More recently in 2020, backup goalie Anton Khudobin led the Dallas Stars on a wild Stanley Cup run, turning his great postseason performance into a salary of $3.3 million per season that even included a no-trade list. He's currently with the Texas Stars (Jack Campbell's former team), passed through waivers to get there, and earns $3.75 million to NOT play there. He was recently called up, but isn't playing effectively anywhere.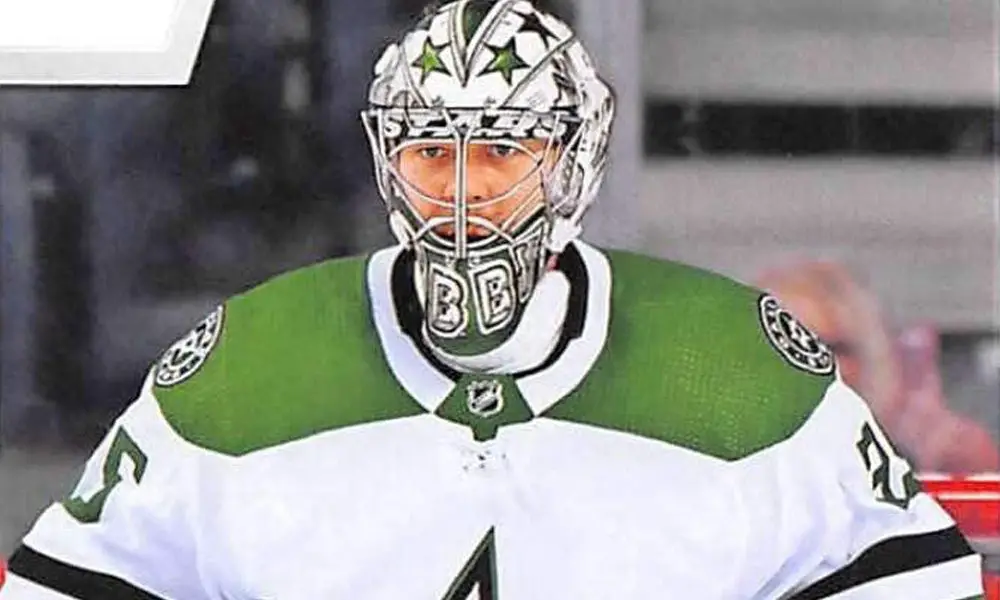 Still, Khudobin carried the Stars to the Stanley Cup Final in the 2020 "bubble" in Edmonton, where his team lost to the Tampa Bay Lightning. That season Khudobin led all goalies in shots faced (811) and posted a .917 save percentage.
Who Knows, Campbell Could Be Amazing During the Postseason
The point is that, although Campbell has had lots of trouble in the last part of this regular season, he might be stunningly good during the postseason. In part, it could be that the team would play tighter hockey. In another part, that the goofy oddness of how goalies play.
Related: New Lines for the Maple Leafs: Do These Mean Trades Are Coming?