In an article written in the Toronto Star by Kevin McGran, two of the Toronto Maple Leafs' best players – John Tavares and William Nylander – were very clear that a robbery had taken place that involved their teammate Morgan Rielly. They didn't actually call it a robbery, but they sure hinted that Rielly had been "robbed" of the respect that he deserved around the NHL. (from "Leaf Morgan Rielly isn't an NHL all-star, but his teammates make a pretty strong case, Kevin McGran, Toronto Star, 04/02/22).
As McGran tells it, Tavares began the conversation a few weeks ago when he was speaking about his teammate Rielly. Tavares was clear, suggesting that Rielly was "a great player, one of the best defencemen I've played with." 
However, Tavares – who's the Maple Leafs' captain – admitted: "Even as good as he is and as much recognition as he gets, I still think he's looked upon as a little bit underrated."
William Nylander, who is enigmatic and seems to keep to himself more than he shares his thoughts, added that he agrees. Rielly is "a tremendous player. I mean, he's a top defenceman in the league and easily could be an all-star in any given year."
Related: Maple Leafs & Jack Campbell: Will This Marriage Last?
That's Where the NHL Robbery Comes into Play
But the fact is that Rielly is not on the NHL All-Star team this season. In fact, he's ​​never been to an All-star game. Teammate Mitch Marner doesn't call it robbery exactly; his word is "insanity." 
As Marner put it, "If you look at his stats and what he brings to our team, (to) not be at least a one-time all-star? It's insanity, to be fairly honest. It's crazy."
And Rielly has had the kind of 2021-22 regular season to support his inclusion to the All-Star classic. 
A Look at Rielly's 2021-22 Season
Rielly started the season strong and has gotten better as the season's gone on. During his first 20 games, he scored three goals and 10 assists (for 13 points) in 20 games. It was Rielly's best start since his 20-goal and 72-point 2018-19 season.  
While the Maple Leafs' team as a whole struggled during the first 20 games to score five-on-five goals, Rielly has been on ice for six more goals-for in five-on-five than goals-against (15 goals-for and nine goals-against). Rielly was also a key part of the first power-play unit that got off to a great start on the season. He also averaged over two minutes per game on what's become a much-improved, penalty-kill unit over last season's.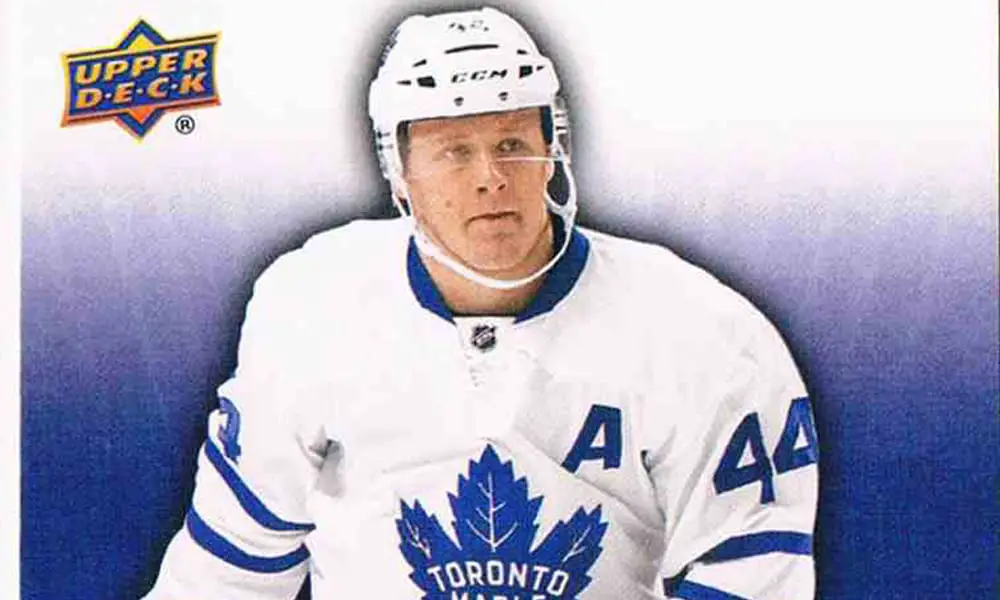 As a result of his hard work and the fact that the organization wants to keep him around for the long term, Rielly signed an eight-year $7.5 million contract extension early during the regular season. After that extension and as the season's worn on, Rielly's made it clear that he's the team's best defenseman.
Rielly Is Having His Best Season Ever
He's worked hard to improve his 200-foot game and, during the last 21 games, he's scored two goals and added 23 more assists (for a total of 25 points). That's better than a point-a-game pace. Adding those two segments up, during the season's 42 games, he's now scored five goals and added 33 assists (for 38 points). He's also second on the team (to Alex Kerfoot) in plus/minus at plus-14.
Rielly's now on pace to surpass his best 72-point total from the 2018-19 season. That was the season he came in fifth place in the Norris Trophy voting for the NHL's best defenseman. Should he continue to score at the same pace he has to this point of the season, he'll finish the season with 76 points. By the way, since the season he came in fifth in Norris Trophy voting, Rielly hasn't gotten a single vote for that trophy.
Robbery? 
Currently, on the season Rielly's sitting in seventh place in the NHL in scoring for defensemen. He's three points out of fifth place and only six points behind Victor Hedman, the NHL's leading scorer for defensemen. All that said, don't be surprised if Rielly gets no more votes this season for the Norris Trophy than he did last season – none. 
One Day Rielly Will Rank Among the Maple Leafs' Best Defenseman – Ever
Will Rielly get the respect he deserves at the NHL level? Maybe never, actually. However, his contract extension means that he's likely to retire in a Blue and White Maple Leafs' uniform. If he does, he'll also likely take his place as one of the best defensemen – if not the best – in Maple Leafs' history. Although it will be tough to displace Borje Salming in the hearts and minds of the Maple Leafs' long-time faithful
As McGran noted in his article yesterday, "When all is said and done, the 27-year-old defenceman may be as revered by Leaf fans as Borje Salming or Tim Horton. He'll get the chance with an eight-year, $60-million contract extension that kicks in next season."
Related: Maple Leafs: A Strong Team Moving Up the NHL's Standings