How to understand this game where the Toronto Maple Leafs beat the St. Louis Blues by a score of 6-5 on Ilya Mikheyev's goal from an almost impossible angle? It was a game of swings, where after the Blues' first goal, the Maple Leafs came roaring back to take a 3-1 lead. Then the Blues roared back themselves to take a one-goal lead in the third period, only to give up the last two goals of the game to lose 6-5.
Perhaps there is some consolation in that, for as bad as the Maple Leafs feel, can you imagine being the St. Louis Blues? That team has to feel worse.
Most interesting, there were many great plays by Maple Leafs' players; however, there were an equal amount of poor plays as well. In the end; and, a few weeks from now, Maple Leafs' fans will remember when they look at the standings or the schedule is that the Maple Leafs won the game and that it was a bit of a high-scoring affair.
In this edition of Maple Leafs' Takeaways, I share my own three takeaways from the game.
Related: For Maple Leafs, COVID-19 Isn't Over Nearly Yet: Ritchie, Kase & Holl
Takeaway One: Ilya Mikheyev Isn't Slowing Down
Ilya Mikheyev scored the game-winning goal on Saturday's 6-5 win over the Blues. It was a goal from the goalie's right and Mikheyev stuck the shot between Jordan Binnington and the post. Although it wasn't clear at first after a few seconds for the puck dribbled over the goal line.
The goal was Mikeyev's fifth of the season. He started quickly in his return; and, simply hasn't slowed down. Now, in seven games he's played since his return from a preseason broken thumb and the COVID-19 protocol, he simply has played (and scored) well.
It was Mikheyev's fifth goal and sixth point, in seven games. In addition, his analytics are amazing. He was on the ice for 13 shots for the Maple Leafs but only four for the Blues. He also made an amazing play to create a screen on Timothy Liljegren's first-ever NHL goal.
During the third period, Mikheyev was moved up to play on the second line with John Tavares and William Nylander. Suddenly, all the talk about Mikheyev's bad hands has been forgotten.
Takeaway Two: Auston Matthews Extends Maple Leafs' Franchise Record
Auston Matthews has extended his Maple Leafs' franchise record by scoring in 10 straight road games. That moves him within one goal of the NHL record, which is held by both Pave Bure and Steve Yzerman (both Hockey Hall of Famers). On the season, Matthews' 25th goal moves into a tie with Alex Ovechkin for second in goals scored and is only a goal behind Leon Draisaitl. During that 10-game road point-scoring streak, he has 12 goals.
Matthews has now has also scored 18 goals during his last 16 games and is suddenly on pace to score 60 goals during the season, which was unthought of given his slow start with an injury. His two points last night now also moved him into a tie for 10th place in the NHL. It was a night of records, and he set the Maple Leafs' franchise record to become the first player to score 25 goals during his first six seasons.  
Takeaway Three: Mitch Marner Never Missed a Beat
Mitch Marner scored a beauty of a goal and added an assist to register two points on the evening. Marner made his presence felt in his first game back from the NHL's Covid protocol. Marner also had the primary assist on Matthews' record-breaking road goal.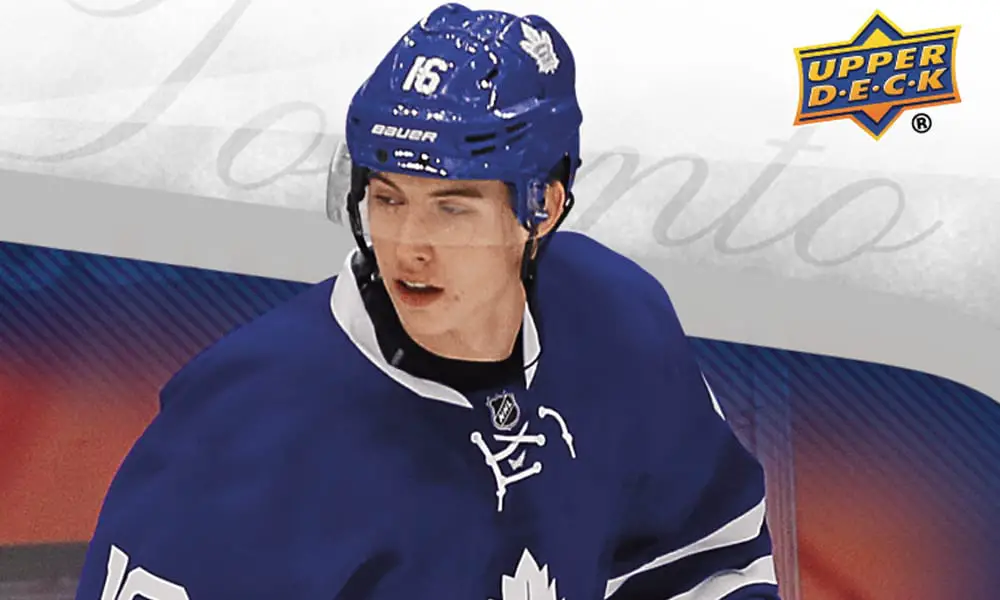 Although Marner has had a slow start on the season – for him, he has a chance to build back his scoring pace to a point-a-game. Right now he has only seven goals and 16 assists (for 23 points) in 26 games. He needs a few multiple-point games in a row to get back into the hunt.
Related: Maple Leafs' Line Combinations & Pairings for Blues' Game Tonight