Daniel Nugent-Bowman of The Athletic is reporting that a source close to him suggests the Edmonton Oilers are seriously thinking about calling up forward Dylan Holloway to play a few regular-season games. He was out of Friday's lineup with an injury, but if he's good to go, the Oilers intend to give him during some of their final 10 games of the season.
Related: Brett Kulak Proving to Be Smart Trade Addition for Oilers
The hope is that Holloway is ready to take the next step in his hockey career after showing well in Bakersfield. He started well, scoring almost immediately when he arrived in the AHL after dealing with serious injuries. He slowed down but has since gotten hot again. He's notched eight goals and scored 21 points in 32 games this season and the Oilers want to see if he can play well in a sheltered role in their top nine and alongside Ryan Nugent-Hopkins.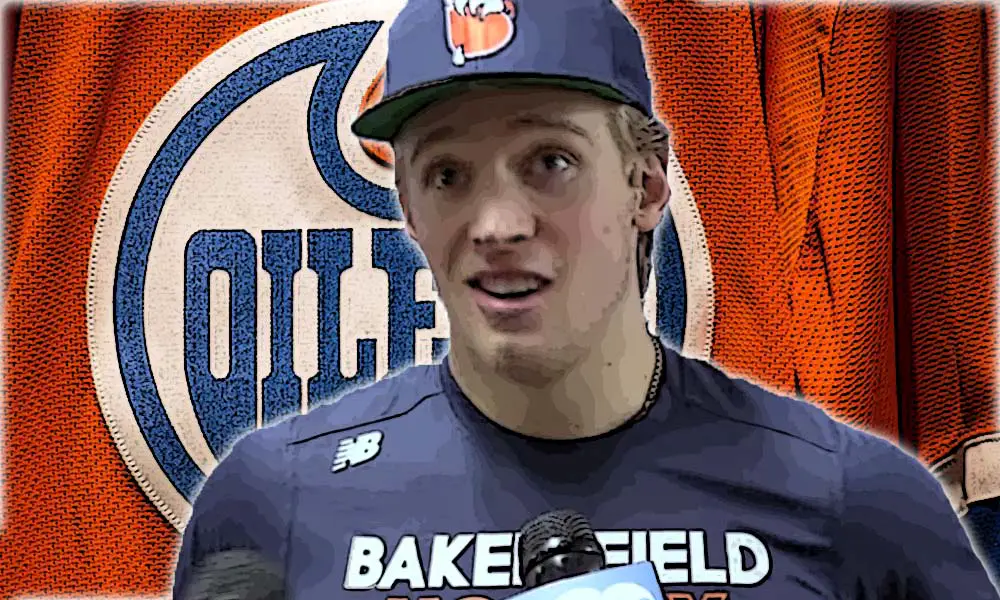 When asked when Holloway might make the jump, Nugent-Bowman writes:
One of the biggest holdups, I was told, is that the Oilers are being especially cognizant of the post-deadline limit of four regular recalls from the minors. So, while Holloway playing for the Oilers is not set in stone, expect it to happen. Of course, that would be dependent on his health, and Holloway missed Bakersfield's game Friday night with an injury.
What Would be the Plan for Holloway?
Outside of playing him with Nugent-Hopkins to see if the two gifted and defensively-reliable forwards can help each other, the Oilers want to know if they can start penciling in Holloway for next season. If so, it would give them the chance to move some players who haven't performed or let others whose contracts expire simply leave.
Josh Archibald is likely done at the end of this season. The Oilers tried to trade him before the deadline and found no way to do so without giving up a big sweetener. He's only eligible for home games and he's not been terribly effective.
Zack Kassian has been anything but consistent and there's a good chance the Oilers try to move his salary off the books this summer.
Derek Ryan and Warren Foegele aren't likely leaving, but they might be better in a depth role on the fourth line come playoff time. Derick Brassard was added at the deadline and he's shown signs of strong play but he's not likely a regular in the lineup if the Oilers have all of their forwards dressed and Holloway is doing what he was drafted to do.
Next: Are Matthews and Marner Ready to Lead the Maple Leafs to the Stanley Cup?