After Tampa Bay Lightning forward Nikita Kucherov left the ice in obvious pain during a game against the Washington Capitals on Saturday, initial reports on the severity of his injury are not positive. In fact, there are rumors he could require surgery, although that has not been confirmed.
Related: Four Maple Leafs' Takeaways from Three Games this Season
The Lightning may be forced to place the Kucherov on IR again after it appeared he hurt his groin after a bump-in with a Capitals player. He was trying to deflect a Capitals player away from the puck on a breakout and he immediately felt something was wrong and left the game. It didn't appear to be much of a collision but he must have tweaked something and was clearly in discomfort. The Lightning were said to be concerned because they know how tough he is and that he was in that much pain was an obvious sign something was wrong.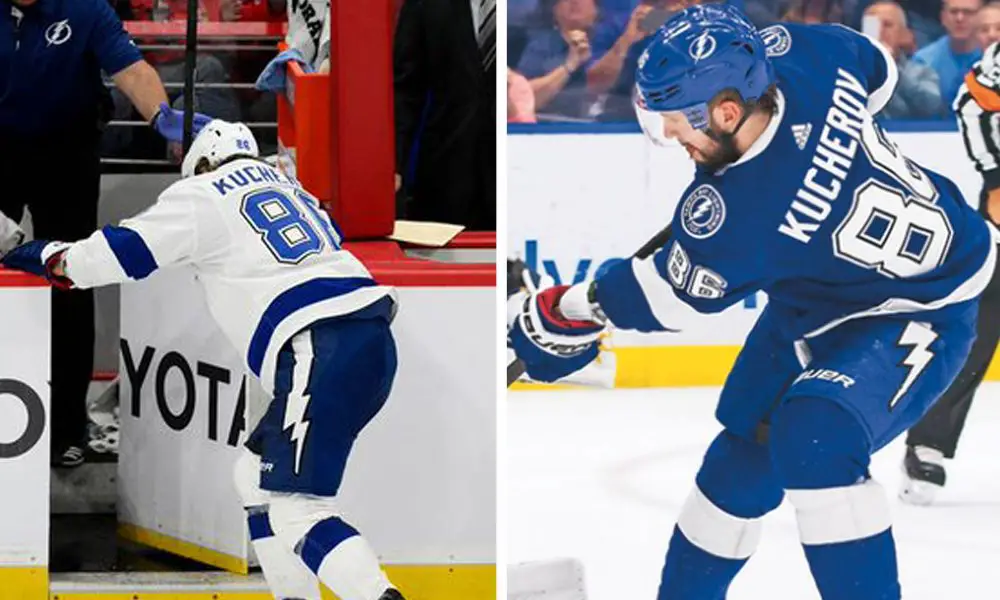 According to Joe Smith of The Athletic, "No official @TBLightning update on Nikita Kucherov, probably because they don't know yet. Trying to schedule with a specialist to determine next step, whether surgery is required. Team practicing today and has two games this week." What the Lightning did worry about was how much pain it seemed Kucherov was in at the time he left the ice.
Head coach Jon Cooper said that the player is going to be out for a little while. "Definitely not a day-to-day thing." He wasn't practicing with the team today.
Injuries Nothing New for Kucherov
Fans may recall that Kucherov missed all of the regular season last year and rejoined the Lightning for the playoffs, becoming a key contributor in their Stanley Cup run and ultimate win. Any timely loss will be significant for the Bolts as they don't have the depth they did last season after being forced to move a number of pieces in the summer as a result of a flat salary cap and an NHL expansion team plucking Yanni Gourde from the roster.
Next: John Klingberg Likely Asking for More Than Dallas Stars Can Afford