Behind the scenes of Jack Campbell's heroics in the net and Auston Matthews' first hat trick (we expect more of them soon) during the Toronto Maple Leafs' signature, 8-3 victory over the Colorado Avalanche on Wednesday was Michael Bunting's three assists. Sometimes quietly, but usually effectively, Bunting has been contributing to his team's winning ways. As I write this post, the Maple Leafs are tied with the Florida Panthers with 35 points atop the NHL standings.
The first-year Maple Leafs' forward is now 26-years-old but has just only completed his 50th NHL career game. He was a late-comer to the NHL. Although he was known to Maple Leafs' general manager Kyle Dubas and head coach Sheldon Keefe when he played with the Soo Greyhounds, who else knew him well?
He was drafted during the fourth round (117th overall) of the 2014 NHL Entry Draft. Then he toiled for five seasons with the Tucson Roadrunners before he got a break with the Arizona Coyotes last season. In a short time frame with the Coyotes, he scored an amazing 10 goals and three assists (for 13 points) in 21 games. Seemingly out of nowhere, an NHL scorer emerged in an AHL veteran player's body. 
Related: Three Takeaways from the Maple Leafs' 8-3 Win Over the Avalanche
Bunting's 2019-20 Short Regular Season Wasn't a One-Off
Interestingly, after Bunting became a free agent after last season, he signed a pretty team-friendly two-year contract with the Maple Leafs. He was offered the chance to come home to be near his family – he's from nearby Scarborough – and once again be reunited with his former coach and GM.
Many – perhaps most – hockey critics suggested that Bunting couldn't keep up his goal-scoring pace this season. Instead, Bunting was a minor leaguer who experienced, as Andy Worhol noted, his fifteen minutes of fame. Although he's not been scoring goals with the same regularly, his points-per-game average is actually increasing over last season.
So far Bunting has played regularly and he's played quite well. He's been moved around the Maple Leafs' lineup – as have other players – as coach Keefe has tried to find the best line chemistry and fits. After moving from the first to the fourth line, Bunting now seems to have found a home on the left-wing, with Matthews at center, and with right-winger Mitch Marner on the team's first line. 
Bunting's Starting to Score Regularly
Bunting, who's known as more than a bit of a pest, has become a contributing member of the Matthews' line. In part, it's because he's no dummy. He digs out the puck, and then as quickly as he can he moves the puck up the ice to Marner. Then he heads to the front of the net where he tries to create chaos.
Marner's creativity is the catalyst for the success of the first line. Matthews is obviously the scoring machine. However, Bunting's three assists against the Avalanche on Wednesday night in the 8-3 win shows he's part of the action. He's a hard-working digger and big-time annoyance to opponents.
With those assists, Bunting extended his point streak to five games. Should he continue his current pace, the season seems to be shaping up to be a breakout for him. He already has six goals and 17 points in 24 games on the season. (from "MOVEMBER REIGN: Matthews' hat trick propels Maple Leafs to laugher against Avs, Clean-shaven superstar records fourth three-goal game," Terry Koshan, Toronto Sun, 02/12/21).
It's Easy to Forget That Bunting Is Virtually a Rookie
After Bunting plays his next two games, he'll have played half his career with the Maple Leafs. Basically, he's an over-age rookie. Who knows what the limit is for him? During his past four games, he's totaled eight points. That's almost otherworldly. Can he become a point-a-game player?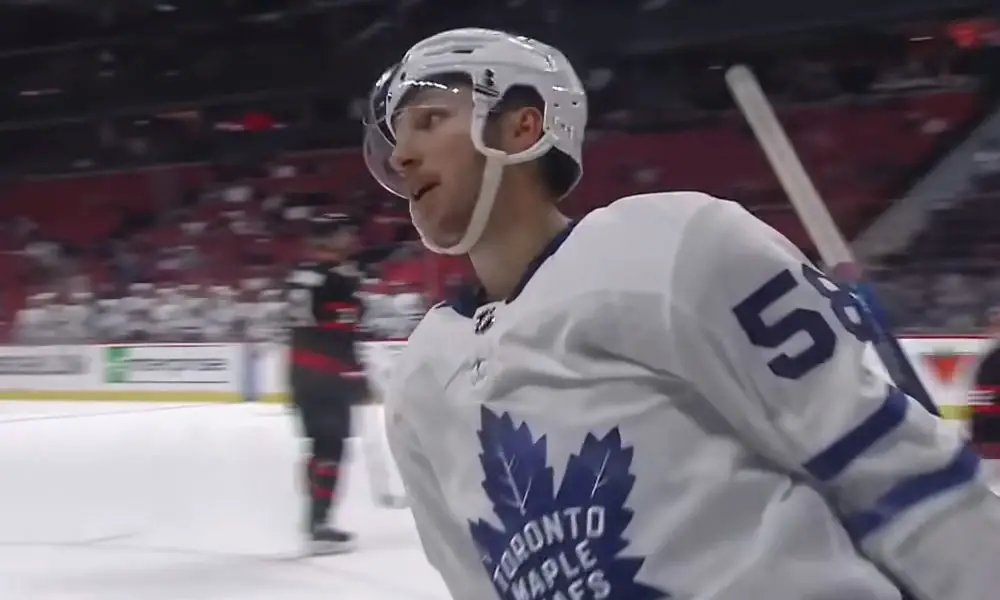 Whatever he does this season, he seems to have found a new home with the Maple Leafs. And his pesky style is a style that longtime Maple Leafs' fans have missed and still appreciate. Who doesn't love a player who gets under the opponents' skin and also scores at a healthy clip? The answer is Maple Leafs' opponents.
Related: Maple Leafs' Player Moves Prior to the Avalanche Game