The Toronto Maple Leafs have great strength at center. Few teams can compare with the Maple Leafs' one-two punch of Auston Matthews and John Tavares. That means that, barring an injury, the team's top two lines are solid up the middle.
Things look good to the coming regular season as well. Tavares has been given a clean bill of health after the severe concussion he suffered in in Game 1 of the first round Stanley Cup playoff series against the Montreal Canadiens. And given Matthews' disposition and the drive he has to improve, who's going to bet against him dumping the ghost that haunts him after his struggles scoring during last season's playoffs? He led the NHL in goals by a wide margin even, but didn't have much to show against the Canadiens' checking.
He'll improve. He's driven that way.
Related: Signing Petr Mrazek Represents New Maple Leafs' Goalie Philosophy
But What About Lines Three and Four?
At this offseason's trade deadline, Maple Leafs' general manager Kyle Dubas held onto his own players. Although Alex Kerfoot was constantly mentioned as a trade bait (or even as a player who needed to be traded to free up salary-cap space need), Dubas chose to keep him.
There was good reason to do so. Kerfoot had both a decent regular season and postseason. In fact, after Tavares was injured he scored six points filling in for the fallen captain.
Still, even with the Maple Leafs' newest signings – left-wingers Michael Bunting and Nick Ritchie – there's a chance that Kerfoot might not be solid as the team's third-line center. In fact, he might be on the wing on either of the top two lines. If Kerfoot doesn't line up in the middle of the third line, who will?
Other Possibilities for Third and Fourth Line Centers
Option One: Pierre Engvall
The question is whether head coach Sheldon Keefe has confidence in Pierre Engvall to play him regularly at center. Engvall seems to shift around between playing wing and playing center because he can be inconsistent. However, the tall Swede is one of the best conditioned athletes on the team. Furthermore, his speed and the space he takes up with his long arms make him an interesting defensive option. He matches up well as a checking-line center with almost any opponent.
Option Two: David Kampf
David Kampf is an interesting case. The Chicago Blackhawks protected him in the Seattle Kraken expansion draft, but then didn't qualify him and he became a free agent. Dubas quickly jumped to sign him because he adds insurance in the form of a veteran center. Kampf signed a two-year contract for two times the NHL league minimum ($1.5 million per season).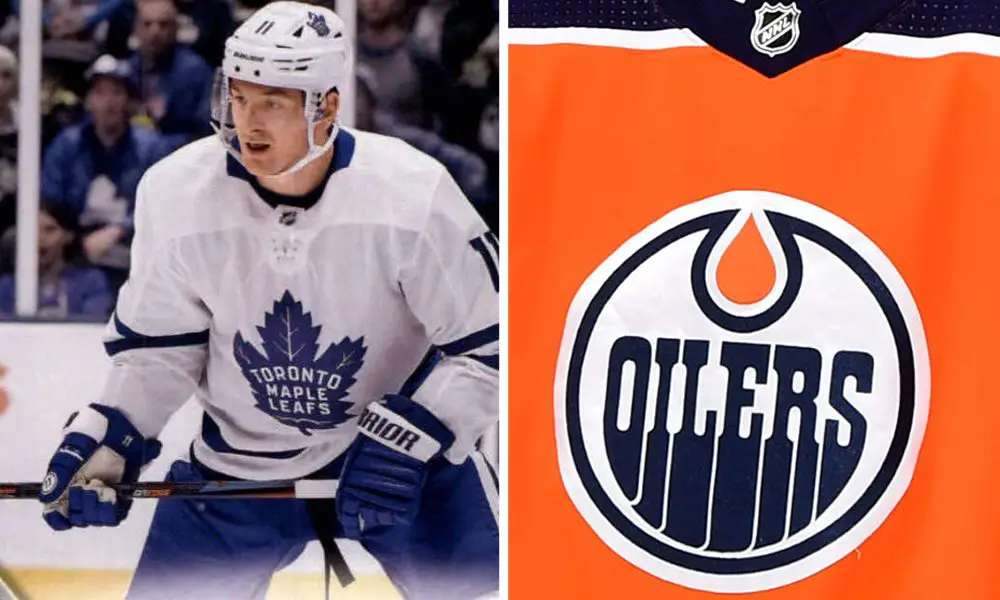 I'm pretty sure that he's seen as replacing Zach Hyman on the penalty kill. He's also likely to get some time as a bottom-six center. He's not much of a scorer, but then head coach Sheldon Keefe wanted a third-line checking unit last season so that might mean Kampf will get a chance as the third-line center. He's also good in the face-off circle.
The Third-Line Answer?
The disposition of the third line will be interesting. Will it be a checking line or an offensive line? From my perspective, the best third-line option that coach Keefe has might be to create a third-line checking unit, with Engvall and Ilya Mikheyev on the wings and Kampf at the center. That likely pushes Kerfoot to the top-six.
Related: Maple Leafs' Fans Might Love Blue-Collar Nick Ritchie Like Zach Hyman
Option Three: Adam Brooks
Brooks should be in a battle for the 13th forward spot. However, given his season in 2020-21, the 25-year-old has a chance at consistent playing time. He can score and tallied four goals in 11 games last season. If he doesn't make the team, he has to clear waivers to land on the Toronto Marlies' roster. That fact in itself might keep him on the big club. I don't think the Maple Leafs want to risk losing him.
Personally, I believe Brooks has the potential to become the regular fourth-line center. I happen to think he's due for a bit of a breakout season.
Option Four: Jason Spezza
Jason Spezza is the final possibility for the fourth-line center, as the roster is currently constructed. He played that position at times last season and didn't look out of place. However, I believe the team prefers to play the 38-year-old on the wing. That gives some of the other younger guys, which is almost everyone compared to Spezza, the chance to center the line.
The Fourth-Line Answer?
From my perspective, the best fourth-line option that coach Keefe has might be to create an offensive-minded fourth-line unit, with Brooks at the center and Spezza and Wayne Simmonds on the wings.
Obviously. all this is speculation. We won't know until the season starts. Even then, given Kerfoot's flexibility, it could be a dynamic group of forwards who make up the team's bottom-six units.