Stephen Nixon of Editor in Leaf beat me to the punch (no pun intended) in his post today about Nick Ritchie. As those who've read my post before know, I'm a big Zach Hyman fan – and I will continue to be now that he's with the Edmonton Oilers.
Recently, I've been thinking about how the Maple Leafs can replace Hyman on the team. The deal with Hyman is that there are a lot of moving parts (also no pun intended). When you start thinking about replacing Hyman, you have to consider his (a) ability to score, (b) his dogged energy digging out pucks for his skilled line-mates, (c) his physicality, (d) his ability to play defense – especially protecting a lead at the end of the game; and, (e) his professionalism.
I can't answer all those five points yet about Ritchie yet, but I can answer a few of them. First, Ritchie can score. Second, he's a blue-collar player cut from the same cloth that Hyman regularly wore. Third, he's even bigger and more physical than Hyman; and, he loves to hit and – even – fight if need be. I'm not sure yet about his professionalism, but his interviews suggest that he has his head screwed on straight.
Related: Maple Leafs' New Signings: How Are They Alike, What Does This Mean?
Toronto Loves Its Hard-Working Players
Who doesn't love Auston Matthews' ability to score? Who doesn't love William Nylander when he winds up with the puck, circles back, and speeds towards the offensive end of the ice cutting through players? Who doesn't love Morgan Rielly when he's on his offensive game?
But, at the same time, what Maple Leafs' fan can resist Ilya Mikheyev's speed and ability to disrupt an opponent's power-play opportunity? Or, Jake Muzzin clearing the goalie's front porch? Or, on the other end of the ice, Wayne Simmonds' relentless taking up space in front of the goalie and daring someone to move him?
Nick Ritchie Will Be One of Those Players: And, with a Possible Upside
In Nixon's post, he predicted that Ritchie would be a fan-favorite before the end of the 2021-22 season. He also predicted that Ritchie would score 30 goals if he became the left-winger with Matthews and Mitch Marner. He called the move to pick up Ritchie in free-agency a brilliant under-the-radar acquisition. Let's hope he's right.
I for one didn't see it coming. But, I like the choice to pick up some of the Boston Bruins' leftovers – especially when the rumor was that he wasn't qualified because he had arbitration rights and would have cost too much. I think it also helps that Ritchie was surprised that the Bruins didn't even talk to him about what they were doing. He reported that he was surprised. Does that make him angry?
This isn't a season where there's a Canadian division, and the Maple Leafs are back to seeing the Bruins again and again. How fitting if the first playoff series win in 18 seasons would be to eliminate the Bruins from the Stanley Cup chase after so many attempts and failuers. Even better if Ritchie scored the series-winning goal.
Where Will Head Coach Sheldon Keefe Play Ritchie?
Nixon and I disagree about where Ritchie should play, but not about whether to play him. We'd both like to see the 6-foot-2, 230-pound left-winger playing regularly. I see him on the second line with John Tavares and Nylander. In that way, I don't see him replacing Hyman – exactly.
However, there are some Hyman comparisons that are worth noting. Ritchie is four years younger than Hyman (and obviously lots cheaper – now), but at a similar stage in his career (when Hyman was 26 years old) he scored his career-high of 15 goals in 82 games. Ritchie scored 15 goals last season in 56 games (which would have worked out to 22 goals in 82 games).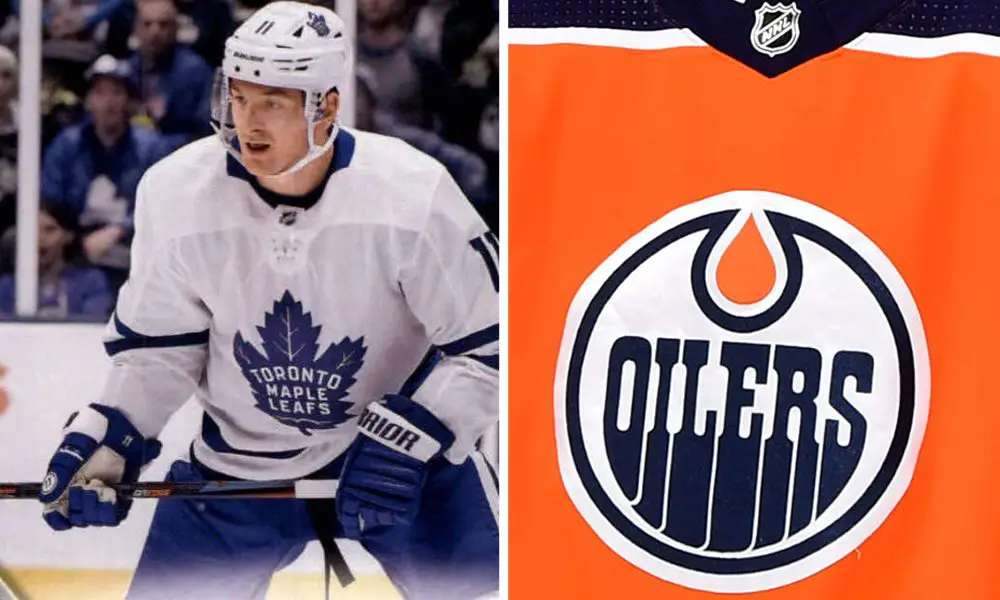 What happens if you put Ritchie with some elite talent – either on the Maple Leafs' first or second line? How many goals could he score? We're not sure, but one would think his production would increase dramatically – as would almost any good player's – with higher-talent teammates.
Related: Maple Leafs' Kurtis Gabriel Bringing Everything He's Got: And, Then Some!
Ritchie Is Happy to Be Playing in Toronto
One thing we can guess is that Ritchie is motivated to be playing at home. In fact, as Nixon pointed out, he seems energized to play for the Maple Leafs. In a Luke Fox interview on SportsNet, Ritchie spoke about playing close to home.
Ritchie noted, "We were all Leaf fans growing up, with it being the closest team to us [in Orangeville]. There was always the bug about the Leafs. Being away from it for a few years, you kind of lose that. But now it's right back on. I got tons of messages from people. Everyone's really excited, family and friends."
The question now is: "How happy will the Maple Leafs' fans be with Nick Ritchie playing in the Blue and White?" My guess is they could be very happy by season's end. In that, I totally agree with Nixon.