The Ottawa Senators announced on Tuesday afternoon that they have extended general manager (GM) Pierre Dorion through the 2024-25 season. 
"We're very pleased to sign Pierre to a second extension as Senators general manager," said owner Eugene Melnyk. "Dating to when he was named GM in 2016, Pierre has worked tirelessly towards building an organization that can compete with the National Hockey League's best. He's dedicated, detailed, and maintains a sound hockey mind. Under Pierre's leadership, we have the utmost confidence that this team will soon be recognized as one that is consistently meriting success."
Related: Coyotes Reporter Denies Rumor Jakob Chychrun May Be On the Move
Dorion, 49, was named as the team's GM back in 2016, and despite some criticism has done a fairly good job with the team in some difficult circumstances. Shortly after he became GM the Senators advanced to the Eastern Conference Finals, but soon after the organization was forced to move on from top players due to trade requests and other unforeseen circumstances. 
With trading some of their former elite players, Dorion has been able to load the Senators with plenty of prospects and young talent who project to be star players in the NHL in the near future. As such, despite their struggles in recent seasons, they are expected to turn into a contender in the next couple of years. 
Dorion currently ranks third all-time in wins for a Senators GM with 149. The only two ahead of him are Bryan Murray (339) and John Muckler (240). Whether or not he is able to one day hit those totals remains to be seen, but there is no doubt he has the confidence of ownership at this point.
Are the Senators Trending Upward Under Dorion?
This past season saw the Senators finish sixth in the North Division with a record of 23-28-5. Despite the poor record, they were a tough team to play against every night and saw the growth of several of their young players. One of those players is Brady Tkachuk who led the team with 17 goals and 36 points. Given the fact he is still without a contract for the 2021-22 season, getting him signed will be Dorion's most important task ahead of training camp which is set to begin September 22.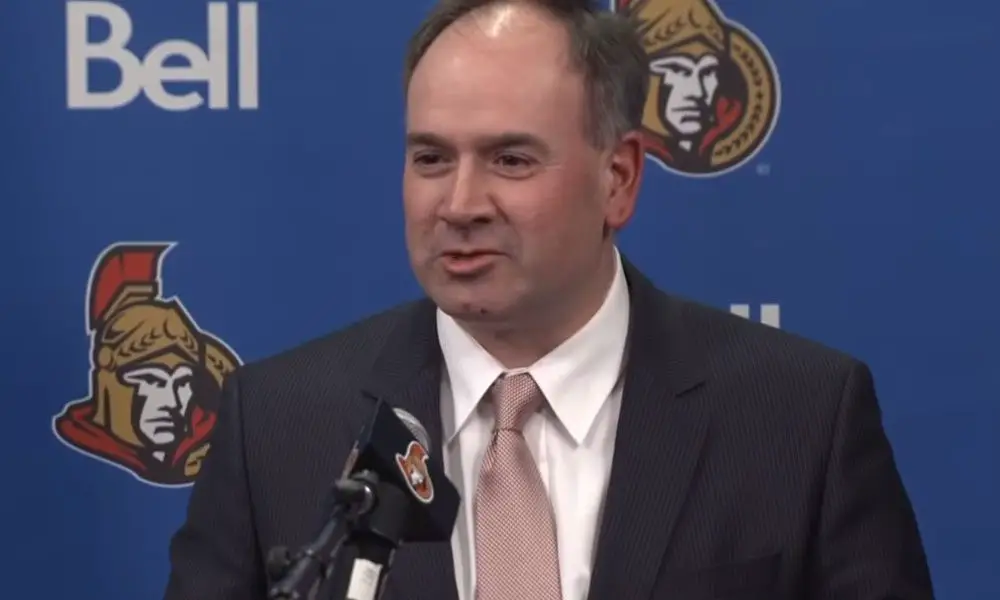 The goal for the Senators over the next couple of seasons is to turn their young players into stars while adding complimentary pieces around those young stars. For Tkachuk, it is rumored he wants to know the Sens will be a competitive team. If he signs a long-term deal, he must thing the franchise is on their way.
Next: Former Canuck Jake Virtanen Finds New Home in the KHL