Shea Weber's contract is a tricky one. The 35-year-old defenseman seems unlikely to play until he's 40 years old, and in fact is injured now and his career is likely to be in jeopardy. The word right now is that Weber isn't expected to play during the 2021-22 season and the veteran defenseman's career might be over. His general manager with the Montreal Canadiens, Marc Bergevin has reported that Weber "probably won't be back for his career" because of ankle, foot, knee and thumb injuries.
That leaves someone in a pickle. The 35-year-old blueliner still has five seasons remaining on his contract, which carries an average annual value of $7,857,143. Had Weber played for the remainder of his career, it would have been no problem for anyone. However, unless Weber has a miraculous recovery, he's not likely to stay in the game that long.
He also would have to love playing the game for its own sake. Basically, if he continued to play, he'd be playing for the NHL's minimum. Should he retire, he would forego the last years on his contract which, actually, wouldn't be much of hit at all. Crazy as it seems, Weber would have collected $107 million of his $110 million 14-year contract during the first 11 years.
Related: Might the Montreal Canadiens Carey Price Say No to Postseason Play?
The Philadelphia Flyers Offer Sheet Started This "Mess"
In 2012, the Philadelphia Flyers decided they would go all in to try to sign the unrestricted free agent Weber away from the small-market Nashville Predators, so the Flyers offered him the $110 million contract to move. That contract came in an interesting shape.
Assuming the salary cap would continue to rise season after season, as a way to keep the salary-cap hit as small as possible, the contract the Flyers signed with Weber split that 14-year, $110 million contract into equal pieces with an average cap hit of $7.5 million over the life of that contract.
However, that wasn't the yearly payout Weber signed for. According to the contract signed, Weber was paid $14 million during each of his first four years; then, during years five and six of the contract, he was $12 million. During years seven through ten, he was paid $6 million per season. [Currently, Weber is in his second year of earning $6 million (and year eight of his contract)].
In 2020-21 and 2021-22, he'll continue to earn $6 million each year. Then, things get interesting. Weber's salary drops to $3 million in 2022-23; and, after that, until 2025-26 he'll be paid $1 million per season – that is if he plays those final three years. But, if you are thinking what I'm thinking, at the end of the 2022-23 season it might just be a good time to retire.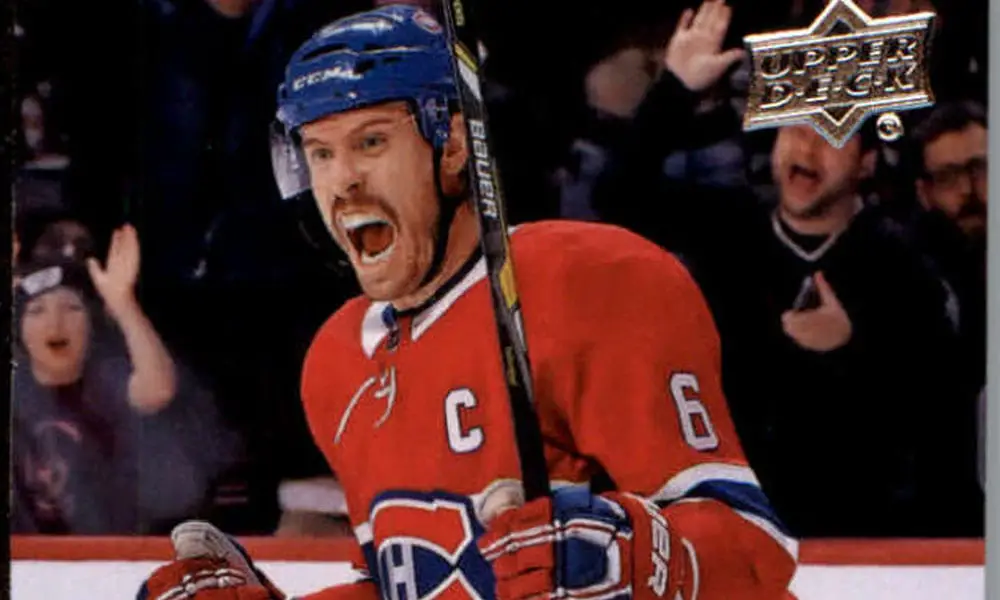 The Cap Recapture Penalty
Back to the Flyers offer sheet. Weber signed it – who wouldn't? And, because Weber was an RFA at the time, the Nashville Predators were given a chance to match that offer sheet, which is exactly what they did.
To understand the current issue that Weber's contract had for the Predators, it's important to understand the Cap Recapture Penalty and why it was instituted.
When the previous 2005 CBA was in place, a number of general managers figured out a way to "beat" the system. Believing the salary cap would rise every season, they created front-loaded contracts similar to Weber's that paid heavily during the first years and then increasingly dwindled as seasons passed.
So, they tacked on extra years at very low pay, just to keep the cap hit as low as possible. For example, adding three extra years to Weber's contract moved his salary cap hit from almost $11 million per season to a more palatable $7,857,143 per season. That's a far more "digestible" number, and unless Weber retires – which he likely will do – keeps him under contract until he's 40 years of age.
Under that CBA, quite a large number of these Weber-like contracts were signed by players such as Chris Pronger, Roberto Luongo, Mark Savard, and Marian Hossa. However, when Ilya Kovalchuk signed a 17-year, $102 million front-loaded contract with the New Jersey Devils, NHL Commissioner Gary Bettman got mad. (from 'Canucks facing big Luongo cap recapture penalty,' Patrick Johnston, The Province, 12/9/16)
As Patrick Johnston noted, "Teams that did those contracts essentially embarrassed Gary [Bettman]. We found a way to circumvent the CBA legally," said one executive. "He was incensed, and said, 'I'm going to get you back.' Which he did."
Related: Would the Montreal Canadiens Consider Dustin Byfuglien?
The New and Current CBA
When the current CBA was negotiated, in addition to regulating salary structures, it included a Cap Recapture Penalty to deal with front-loaded contracts signed under the previous agreement. The following players' contracts were found to be illegal – Kovalchuk, Savard, Pronger, Hossa, Henrik Zetterberg, Mike Richards, and Luongo.
What's interesting here in the case of the Weber contract is that even though the Flyers caused the issue with the offer sheet, because the Predators matched the offer, they technically signed him. And, that means that any cap recapture penalty would have been assessed to Nashville.
What Might Happen to Weber in the Near Future?
On July 7, 2020, Ken MacMillan wrote an interesting piece about how the cap recapture penalties have been eased a bit in Weber's situation. When the NHL and NHLPA agreed to extend the CBA earlier this week, they also tweaked this cap recapture penalty.
That penalty had only been assessed one time, and that was when the Vancouver Canucks were hit with a cap hit of just over $3 million for the last three years after Roberto Luongo retired. It's a tough penalty to pay, but in Luongo's case, the Canucks organization brought it on themselves.
What happens to Weber in the future is tough to tell. As MacMillian noted last season, if Weber wishes to retire, maybe the Canadiens could convince him to take a job within the organization.
MacMillian noted, "That way he could still earn his money but the Habs would have way more space under the salary cap, while not completely destroying his old team in the process."
It's a crazy contract and isn't settled yet. However, after this new CBA agreement, it won't be as onerous as it might have been.