The Toronto Maple Leafs' Pierre Engvall is back from his injury and immediately showed up on the scoresheet for last night's fourth Maple Leafs' preseason game by scoring a pair of goals in Monday's 3-1 preseason win over the Ottawa Senators. That should be solid enough to show that he belongs on this team for the next season, but does it?
Engvall opened the scoring in a game the Senators might have dominated, given their respective rosters. However, even with the Maple Leafs' Marlies-loaded lineup, they looked like the team with the most jump and skills. The win was well-deserved. And, as I noted, Engvall was a part of that win.
Related: Maple Leafs' Current Line Combinations: What Do They Mean?
Engvall's Goal Scoring and Other Game Stars
Engvall scored his first goal early into the second period on a power play to give his team the early lead. It was a nicely-placed shot. His second goal came with just one second left in the game when he finished the scoring by putting home an empty-net goal.
The other goal scorer for the Maple Leafs was the 25-year-old center, Michael Amadio. Amadio had played five games with these same Senators last season but has had a bit of a journeyman career with the Los Angeles Kings a few seasons ago. He's likely headed to the Marlies to become part of their AHL roster.
Speaking of the Kings, the other game star was Maple Leafs' goalie Jack Campbell, who came to the team as a backup two seasons ago. Campbell looked strong and only allowed a single goal on 27 Senators' shots. That's a strong save percentage of .963.
Maple Leafs' 13th Forward: Pierre Engvall or Adam Brooks
In an email from longtime Maple Leafs' fan Stan Smith, whose insights I've come to appreciate and who is collaborating with me on this post, he suggests that believes there's a fight for the job as the Maple Leafs' 13th forward between 25-year-old Engvall and 25-year-old center Adam Brooks. He believes the job as the last forward on the team will go down to a choice between those two players. 
If so, who will the Maple Leafs choose?
Both Engvall and Brooks Did Good Things
It isn't as if Engvall didn't do some good things. He had that nice power-play goal, almost scored an identical second goal on the power-play. and did get the empty netter. And, that's important. However, Brooks was also on the ice; and, although he didn't get rewarded on the scoresheet, he was effective.
In fact, a case can be made that Brooks outplayed Engvall throughout the whole game. Brooks also is a center and his head coach Sheldon Keefe seems to like him as the fourth-line center between veterans Jason Spezza and Wayne Simmonds. Brooks also makes $500,000 less than Engvall on his contract; and, for a team that's figuring out its lineup with an eye over the shoulder towards the oncoming salary-cap upper limit, that matters.
Engvall's been a favorite of mine since I found out what kind of a fitness guy he is and that he's usually at the top of the team's tests in that area. That counts for me as I watch a longer 82-game season unfold. He's also coming off an injury and might not yet be playing at 100%. Still, there are some things that Engvall doesn't do or doesn't seem to do anymore.
Why Isn't Engvall Physical Anymore?
Specifically, Engvall doesn't always use his size to his advantage. In last night's game, he wasn't physical. Instead, he sort of did a lot of "flybys" in the corners and waved his stick at opponent puck carriers. However, he didn't engage them and turned away instead of following through. He isn't, for some reason, in his coach's good books, and perhaps this is why.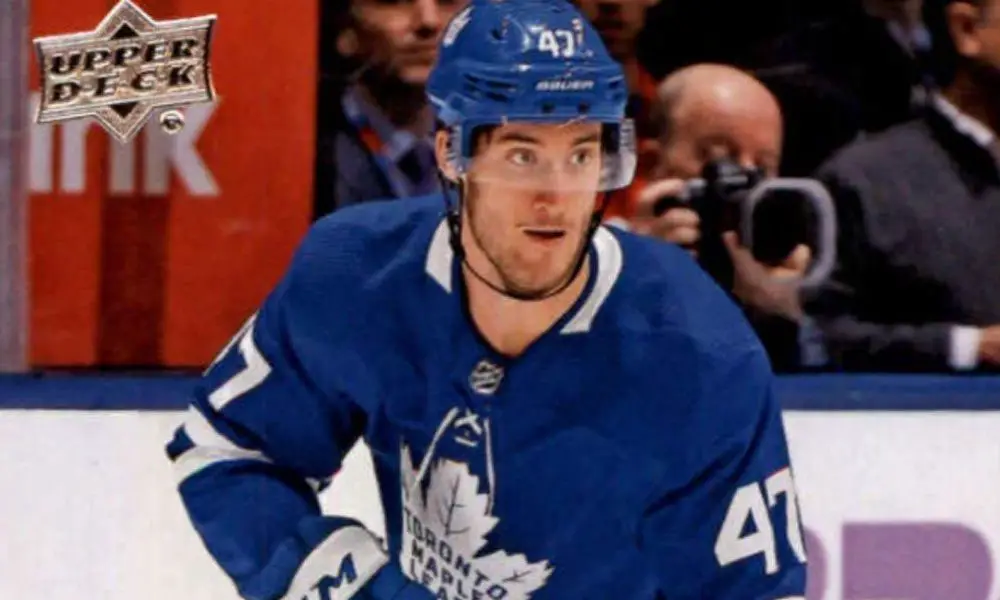 While he was in the AHL, Engvall played both a fast and a physical game. He doesn't seem to be doing that any longer. Brooks was more engaged in the game, both with and without the puck. He did make an error, turning the puck over to allow a good Senators' scoring chance. But, he was tenacious without the puck in both ends of the ice. He lost some battles, and he turned the puck over a couple of times. But he was more physical.
Related: Maple Leafs' Michael Bunting: The Most Hated Guy on the Ice
What Happens Now with Engvall and Brooks? 
If Smith is right, and he did note that there wasn't a huge difference in either player's impact, it might come down to the salary cap for him. That's where Brooks has an advantage because he's half a million dollars cheaper than Engvall. On the other hand, it's also likely that Brooks can sneak through waivers and Engvall cannot.
There's the dilemma and the choice to the Maple Leafs. And, it's also the question I raised at the beginning of this post. Engvall is back from his injury, but will he stay back? And, will the Maple Leafs' ultimately choose him as their 13th forward?
Maple Leafs' fans will soon see.