After practice on Friday, the Toronto Maple Leafs' Sheldon Keefe talked about Michael Bunting's strong start to preseason, where he's scored four goals in two preseason games. But what was most interesting were Keefe's notes about what might make Bunting particularly valuable to the team. That's his quality as being a pest. 
That's a quality that might turn out to be valuable for the Maple Leafs this season; and, it's something the team didn't have last season – a pest. Because, as good as top-line, left-winger Zach Hyman was, he just didn't get under the skin of the opponents. And, that's something the Blue and White could use. 
Related: 6 Reasons the Maple Leafs Are Happy with Petr Mrazek as Goalie 1B
Kurtis Gabriel Noted Bunting's Quality: He's a Greasy Rat
The other night after Bunting's hat trick, Kurtis Gabriel interrupted the post-game interview to call Bunting "a greasy rat." Keefe was asked if he saw Bunting the same way. 
Although Keefe didn't answer the question directly, he did say that one thing he knew about Bunting was that, during the time he's known him, he was one of the most hated players on the ice. And, that's something Keefe has come to expect from Bunting. 
As Keefe noted, "I think that is a positive thing. He is not out there to make friends. He is out there to score goals and help his team win. He makes no apologies for how he goes about it. I like that about him."
For Keefe, Bunting is a "guy who makes no friends on the ice." He's hungry and competitive around the net, which is what makes him a potentially good scorer. Keefe noted that Bunting was "always looking to get an edge on you."
Being a Late-Bloomer Gives Bunting Something to Fight For
During the interview, Keefe told more about Bunting's story. And that's a story that perhaps pushes him to play with a chip on his shoulder. He played AA hockey for a long time and was not drafted until he was 18-years-old. As a result, Bunting plays with a lot to prove every night. It's one reason Keefe believes Bunting has a chance to be a good NHL player – he's a late-bloomer who's gotten to where he is because of his determination, his belief in himself, his hard work, and his competitiveness.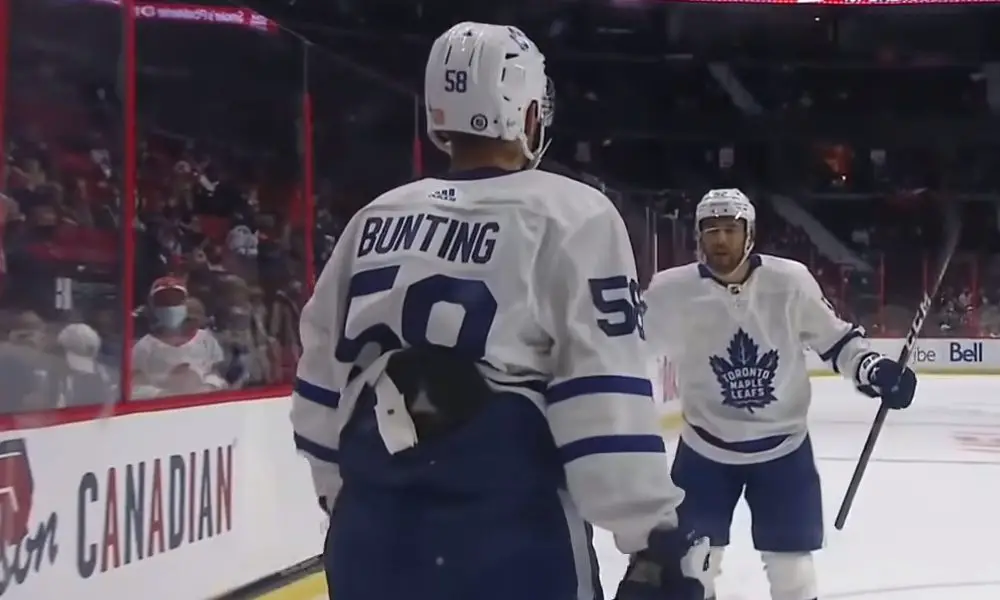 As Keefe noted, when Bunting combines that competitiveness with hunger, talent, and his ability around the net that's a really nice combination. You don't bet against guys like Bunting, Keefe believes. 
Related: Preseason Game 3 Outcome: Michael Bunting Makes Maple Leafs Top-Six
Bunting Needs to Be Smart About His Play
Keefe noted that, although Bunting takes it upon himself to disrupt his opponents, he needs to do that intelligently, with purpose, without being a distraction. Bunting can't forget that he's a good player who needs to take care of the rest of the rest of his game each shift.
Bunting, as Keefe noted, has an important role and opportunity with the Maple Leafs. And, so far, he's making the best of his chances during the preseason. However, Keefe noted that the regular season will be played at a different level. Keefe reported that both he and the organization knew that Bunting would come in to be "a competitor who has a lot to prove." 
Keefe also reported that Bunting had a number of chances other than with the Maple Leafs where he could've signed for more money. And, because he's a guy who hasn't yet made a lot of money during his career. 
As a result, Bunting's betting on himself. And, so far, Bunting's winning the bet – so far.