As the Toronto Maple Leafs keep emerging off the NHL's COVID-19 protocols – and some go onto the protocols, new bodies come back into the lineup, and replacement players are either moved up or down to the Maple Leafs' roster. The NHL protocols are constantly reshaping the Maple Leafs' roster or taxi squad. Players are moving down to the AHL's Toronto Marlies and some are moving up.
Because the lineup changes every day, it can be tough to keep up. In this post, I'll try to help Maple Leafs' fans stay up-to-date with some of these changes.
Related: Maple Leafs' Player Moves Getting Ready for Senators on Saturday
Quick Hit One: Line Combinations as of December 30
Although these line combinations are likely to change, the line combinations as of practice on December 30 were tweeted by David Alter from practice yesterday morning.
Quick Hit Two: Time for Maple Leafs' Fans to Warm Up Their TVs
The Maple Leafs still have a game scheduled for Saturday against the Ottawa Senators. Even with the ticket sales that limit the crowd to 1000 fans as a result of the COVID-19 surge in Ontario. Maple Leafs Sports and Entertainment (MLSE) will forge ahead without selling any extra tickets to Maple Leafs' games (or Toronto Raptors' games either).
It's time for Maple Leafs' fans to warm up their television sets. Thousands won't be able to attend the games.
Quick Hit Three: Michael Bunting (and Others) Have Been Lucky – No COVID-19
Bunting is one of a small group of Leafs that has not tested positive for COVID-19 over the past couple of weeks. The run of positive tests started with captain John Tavares and Alex Kerfoot on December 17. Only two days ago, Timothy Liljegren was added to it. No one was added Thursday.
After practice on Thursday, Bunting noted that he "was basically just taking it day by day and waiting to see to if my name would pop up positive and fortunately enough, it hasn't yet, so knock on wood. The last 10 days (before practices resumed on Sunday) have been pretty slow. (from "Bunting knocks wood that he has avoided COVID; Mrazek tabled his reflex skills during isolation," Terry Koshan, Toronto Sun, 30/12/21).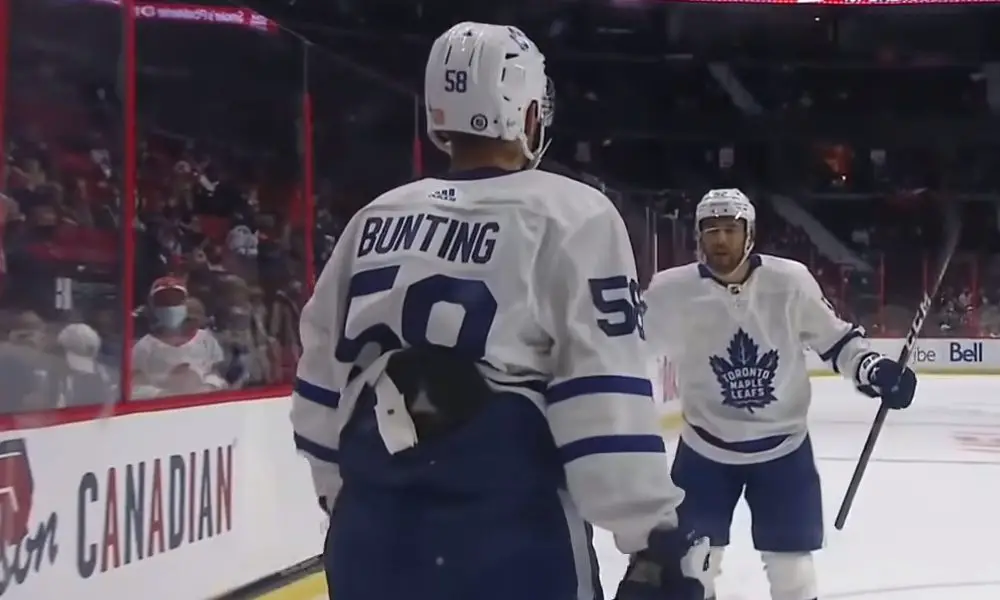 Bunting added, "I was trying to stay in shape, going for walks, pretty much just isolating as much as I can."
Bunting is one of the few Maple Leafs' players who did not test positive for COVID-19. The other players in that lucky group have been – so far, I add – defensemen Justin Holl and Alex Biega and forwards Auston Matthews, Mitch Marner, Ondrej Kase, Nick Ritchie, and Pierre Engvall.
Quick Hit Four: Rasmus Sandin Excited to Be Back Practicing
To say that young Swedish defenseman Rasmus Sandin was excited to be back at practice and gearing for a game would be an understatement. When the Maple Leafs' defenseman was able to fully participate in his team's practice, he noted that his "whole body was almost shaking, I was so happy to be back on the ice." (from "Rasmus Sandin 'almost shaking' with joy as he re-joins Maple Leafs blue line in practice," Terry Koshan, Toronto Sun, 30/12/21).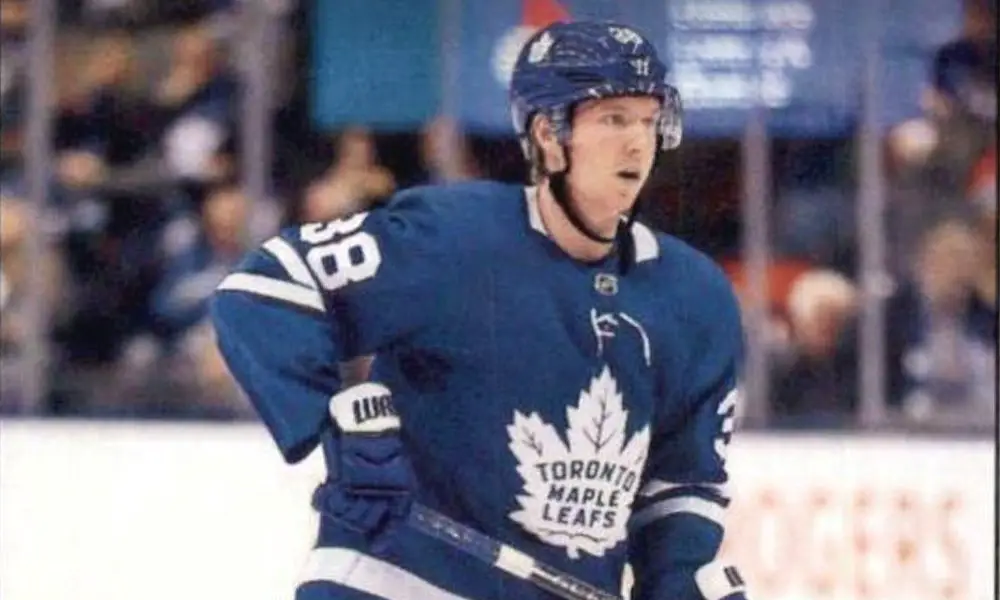 Sandin was practicing for the first time after rehabbing from a leg injury and then contracting COVID-19 and having to go into the team's protocol. He shared "I was skating a little bit before I had to go into quarantine, but stepping on the ice and seeing all the guys again, it was great and some of the most fun I've had in a long time."
By the way, Sandin reported that he was asymptomatic and had no symptoms at all. He kept his energy and had to quarantine and self-isolate, but he felt fine. He was also ready to play had COVID-19 not hit him. Sandin noted that be good to play on Saturday night when the Maple Leafs play their first game since December 14.
Related: Auston Matthews Forever Impact on the Toronto Maple Leafs