As per a report by Daniel Nugent-Bowman of The Athletic, Edmonton Oilers general manager Ken Holland is expected to speak on Wednesday regarding the status of the team after a six-consecutive loss, the latest coming on Tuesday night versus the Toronto Maple Leafs.
Related: Three Takeaways from Maple Leafs' 5-1 Win Over the Oilers
The Oilers didn't play as poorly as the 5-1 loss to Toronto would suggest, but there's a real concern growing in Edmonton that the team wasn't ever as good as their 9-1 start and, while they may not be as bad as 0-6 in their last six games, they might be closer to the latter than the former.
In the past, Holland has said that he won't panic. He's likely to say the same thing again. He's also likely to add that this team needs to be better. The scorers need to score. Depth players need to contribute and that hopeful the big injuries hurting this team are behind them — not that he'll use injuries as an excuse.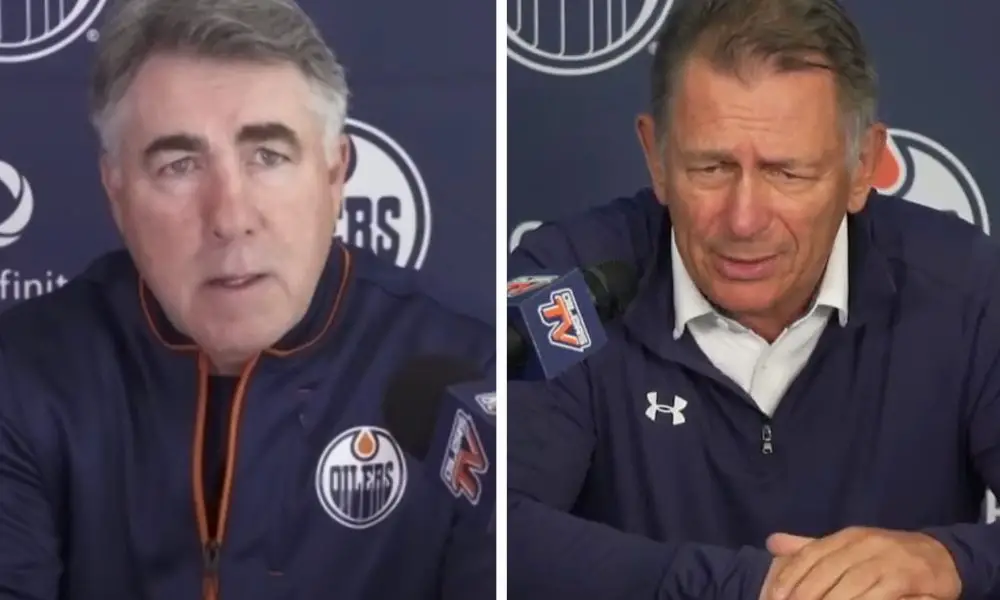 Nugent-Bowman adds, "Another season of McDavid and Draisaitl as arguably the NHL's top two players simply cannot be wasted" and notes that Holland needs to talk about what's next because "Many of the offseason decisions he made haven't panned out so far. Even though cap space is tight — with just over $1 million in current room, per PuckPedia — some sort of shakeup is required."
What Can the Oilers Do?
The team revamped their forward corps and change up their blue line in a pretty big way this offseason. As for what Holland can do to address the issues and help jumpstart his team to getting out of this funk, it's either a trade, a coaching change or both.
The coaching change doesn't seem like the play here because news that Dave Tippett is out for precautionary COVID protocol reasons means the Oilers will have a different voice behind the bench until around December 27th anyways. This short window might be a glimpse into how the team will perform under different leadership. The first game showed the team played a little better but the outcome is still not what the Oilers want.
Next: Oilers Considering Adding in "3 Kinds of Areas" Says Insider