Why is Tyler Bertuzzi the type of player the Maple Leafs should look at in free agency? Earlier this week, NHL insider Chris Johnston was interviewed on Good Show; and, during part of his discussion, he talked about why he believed the 26-year-old restricted free agent (RFA) Bertuzzi could be on the Maple Leafs' watch list.
Although there was much speculation, Johnston took time to remind Maple Leafs' fans that Bertuzzi was in fact coming off back surgery that cut his 2020-21 season short and couldn't be expected to completely fill the void if Zach Hyman left the team for greener pastures.
Related: Siegel Reports Maple Leafs' Have No Side Deal with Kraken about Kerfoot
What Bertuzzi Would Bring to the Maple Leafs
You can hear Johnston speaking about Bertuzzi on the following video.
Bertuzzi Is Coming Off Back Surgery, Is He Able to Play?
Todd Bertuzzi will become a restricted free agent when his contract with the Detroit Red Wings expires later this month. He's been a 20-goal scorer during each of his two seasons prior to the 2020-21 season, but this season he only was able to play nine games before he had to have back surgery, which ended his season almost before it started.
Signing Bertuzzi is a risk because he hasn't played in a long time; but, he might be a good pick up if he's healthy.
Bertuzzi Can Replace Part of Zach Hyman's Game
Over the past week or so, Bertuzzi's name has been bantered around as a replacement for Zach Hyman in case the rumors that Hyman might sign with another NHL team are true. There has been a lot of smoke in this rumor – actually, both ways. Way one, with Hyman potentially leaving; and, to a lesser extent, way two, with some small puffs about Bertuzzi perhaps heading Toronto's way.
What makes Bertuzzi so potentially valuable to the Maple Leafs is that he's a bit of a "buy low" candidate because he's coming into a period where he's got a tremendous amount of leverage when it comes to his next contract. That said, he won't cost nearly as much money as the Maple Leafs would have had to pay for Hyman.
Of course, Hyman will not be easy to replace and, as Johnston noted, the Maple Leafs won't be able to find one person who'd be able to do all the things Hyman does – that is, without paying close to $5.5 million to do so.
Hyman's a Special Player, and Teams Are Ready to Pay for His Skills
Hyman's special because he can play all the different ways a team needs a player to play – skill, grit, scoring, defense, and with a never-give-up attitude. Those skills and drive will make him popular on the open market. There's no replacing his entire game, unless the Maple Leafs are willing to re-sign him for what he wants.
The best the team can do, according to Johnston, is to find a number of "players with complementary skill sets who can fill in around the margins" to do the things Hyman did collectively and potentially for less money than the team would have paid Hyman.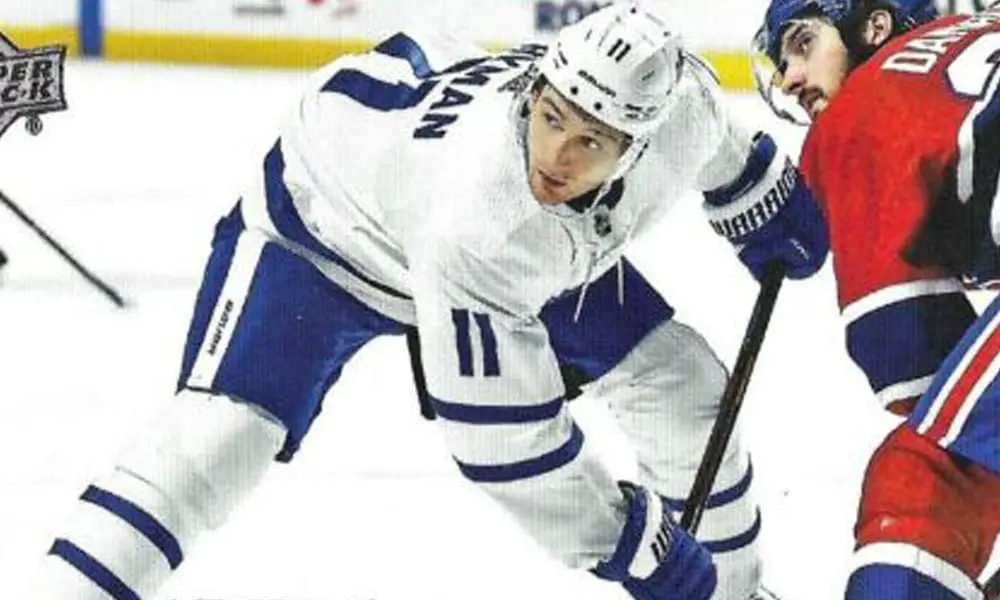 Johnston admitted that his colleague Elliotte Friedman might have been "fanning the flames" a bit, but he didn't just pull Bertuzzi's name out of nowhere. At the same time, Johnston warned Maple Leafs' fans that there's no guarantee that Bertuzzi would even want to come to Toronto. However, as both Friedman and Johnston noted, Bertuzzi represents the type of player the Maple Leafs will be looking for in free agency because they do have a few forward spots yet to fill.
Other Key Notes about Bertuzzi and the Maple Leafs
Note One: Bertuzzi Would Be a Nice Pick Up for the Maple Leafs
The 26-year-old Bertuzzi would fit nicely on the team. In an earlier post, Friedeman reported that the Maple Leafs had actually been looking at the Red Wings' forward at the NHL trade deadline; but, because Bertuzzi was hurt, those conversations never were pursued.
Note Two: Bertuzzi Would Want a Salary Increase
Interestingly, Bertuzzi was signed for the same amount of money that Alex Kerfoot's contract calls for – $3.5 million. He'd be looking for a slight salary increase over his last contract. That money has to come from somewhere.
Note Three: No One Knows if the Red Wings Are Ready or Interested in Moving Him
Bertuzzi might not actually be available. In fact, it seems unlikely that the Red Wings would go out of their way to move him. Still, because the Red Wings are in a different stage of rebuild than the Maple Leafs are, Detroit general manager Steve Yzerman might be willing to trade Bertuzzi's negotiation rights for a prospect or a draft pick.
Note Four: Bertuzzi Might Be a Better Scorer than Hyman
Hyman's Hyman, and you know what you're going to get game in and game out. However, Bertuzzi is a player and, in fact, might potentially a better scorer than Hyman could ever be. And, Bertuzzi's done well with a much weaker Red Wings' team. If he were teamed up with some of the other Maple Leafs' high-end offensive talent, one could look for Bertuzzi to reach career highs. He'd be a great addition to the team's top six.
Note Five: Other Teams Would Also Be Interested in Bertuzzi
No one is sure if Maple Leafs' general manager Kyle Dubas would be interested enough on Bertuzzi to go into any kind of a bidding "war." And, given Bertuzzi's status and potential, clearly other teams would also be interested. Still, if Alex Kerfoot is drafted by the Kraken, goalie Frederik Andersen and Hyman both leave, Dubas might actually have bsome funds to go after a player like Bertuzzi.
Related: Four Reasons Frederik Andersen's One of Top Maple Leafs' Goalies Ever
Blue and White Can Be Becoming
Maybe it's a bit of a pipe dream, but then again maybe not. Seeing Bertuzzi in a blue and white uniform on the left side of the Auston Matthews and Mitch Marner line might be something to watch.