In this edition of Ottawa Senators News & Rumors, I'll look at some of the news about Senators' prospects. As well, I take a long look at what the Senators goalie coach says about the organization's new goalie Matt Murray.
Related: Ottawa Senators Prospect Tim Stutzle's Class Act Honors Alex Trebek
Item One: Ridly Greig Tested Positive for COVID-19
As reported by Ridly Greig's agent, Kevin Epp, the Ottawa Senators prospect tested positive last week for COVID-19. Epp told TSN's Ryan Rishaug that news.  
Although Greig has been deemed "unfit to play," he's expected to take part in Team Canada's World Junior selection camp in Red Deer, Alberta, at some point soon. Epp noted that the young Greig fortunately was asymptomatic and is quarantining at home.
Greig hopes to join the other young players who hope to make Canada's World Junior team in less than a week when his 14-day quarantine end on Nov. 22. Greig was chosen during the first round (28th overall) of the 2020 NHL Draft by the Senators. 
Item Two: Tim Stuetzle Named to Preliminary Roster of Team Germany for the World Junior Championships
Although his hand has more healing to do, Tim Stuetzle was one of 27 young players named to the preliminary roster of Team Germany. Members of that preliminary roster will be chosen to man the Germany team that takes part in the 2021 IIHF World Junior Championship in January. 
Although there's no word yet if Stuetzle will actually take part in the tournament, his initial prognosis was that he would be on track to be recovered from his broken hand before training camp begins in Fussen, Germany, in early December.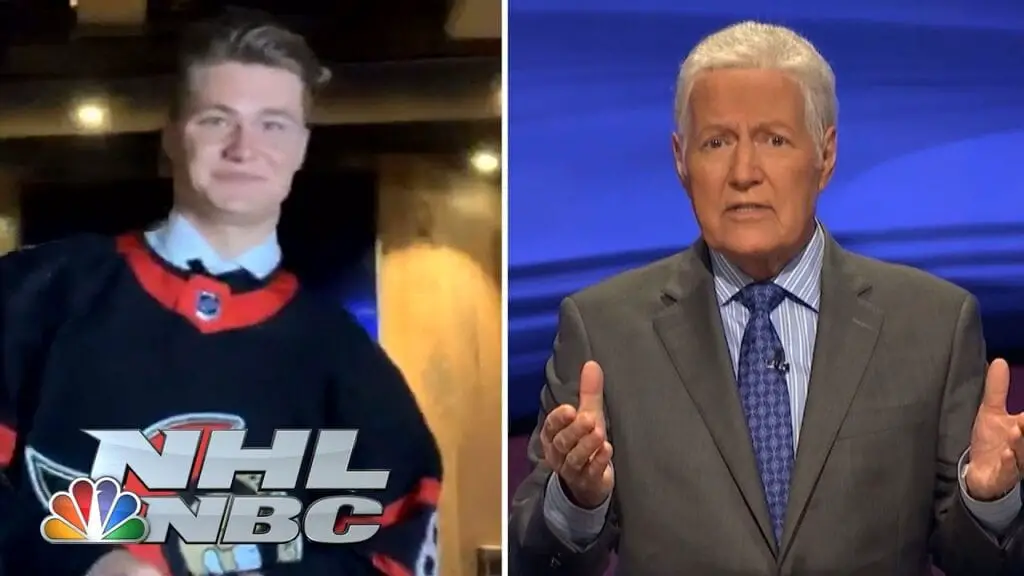 Team Germany coach Tobias Abstreiter released a statement that, "If the healing process for Tim Stuetzle continues as good as before, then the chances are good that he can be there. There are still five weeks until the world juniors so we're optimistic."
Another choice Stuetzle has is to move to North America to be part of the Senators training camp if that camp opens in early December rather than competing in the World Juniors. But, honestly that seems like a remote possibility for the youngster.
There's one minor holdup. The Senators must negotiate a release for Stuetzle from his contract with DEL's Mannheim; however, that's not expected to be much of a problem. (from "Ottawa Senators' prospect Tim Stuetzle named to Team Germany for world junior tourney," Bruce Garrioch, Ottawa Sun, 18/11/20).
Item Three: Matt Murray Was a Player the Senators Simply Couldn't Let Get Away
When the Senators' goalie coach Pierre Groulx saw a chance to acquire Matt Murray from the Pittsburgh Penguins in early October, it was a move he believed the team simply couldn't pass on. In speaking about Murray, Groulx noted that Murray "knows, if he gets his game back to where it should be, he'll lead this team to more victories." (from "Ottawa Senators' goalie coach Pierre Groulx looking forward to working with Matt Murray," Bruce Garrioch, Ottawa Sun, 18/11/20).
Groulx recalls how well Murray played against the Senators during the 2017 Eastern Conference Final. He helped lead his team past Ottawa and into their second straight Stanley Cup championship. Murray was almost unstoppable in those days, tending his Penguins to back-to-back Stanley Cup victories.
Murray played a major role in both those Stanley Cup Championships. In those days, he played great game after great game; however, recently his play has been lacking. During the 2019-20 season, Murray recorded a goals-against-average of 2.87 and save percentage of .899 in 38 games. That's barely average.
As a result, he fell from favor with the Penguins organization. However, when the Senators picked him up, they put a ton of faith in Murray's ability to find his game once again. Both Groulx and the Senators are betting that Murray bounces all the way back to become a team cornerstone. If he can, that changes the Senators out of a rebuilding stage into a contending stage. 
Groulx noted that he "thought a change of scenery would do him (Murray) great." Murray has bought into that possibility.
Groulx noted that "One of the things that came out when I had a meeting him, and I told Pierre and D.J. this, is he wants this team to do well, he wants to prove what type of goalie he is and how he can help this team get to the next level. He knows, personally, he's got to have a bounce-back year and he's got back to where his level of play should be."
Groulx added that, "With the excitement and motivation that he has to play better, after talking to him and watching him on video and speaking to his summer goalie coach, I can't wait to get on the ice with him and to see him play."
Item Four: Logan Brown Hires a New Agent
What we know is that Logan Brown has changed agents, but what we don't know is why. In an article in the Ottawa Citizen, Don Brennan speculates that Brown might be unhappy with his slow transition into the NHL.
That makes some sense. Brown was chosen during the first round of the 2016 NHL Entry Draft (11th overall). Although the Senators have been a rebuilding team and he shouldn't have huge competition, the Senators haven't moved him quickly through the organization.
If I remember right, the Senators were also slow moving up Jason Spezza many seasons ago. At times, Ottawa seems to be cautious with their young player's development.
Related: Senators Prospect Egor Sokolov Pays Debt to Cape Breton in Pandemic
The 22-year-old Brown has played in 29 NHL games. When he's played, he's done fine. In his NHL games, he's scored a goal and eight assists, while averaging just over 11 minutes TOI. Playing in the AHL, he's scored 21 goals and 49 assists (70 points) in 81 games in his last two seasons.
All this said, Brown might have switched agents for other reasons. In his piece, Brennan was simply speculating. (from "Cracks of Don: Is it time for Logan Brown to make another leap … to a different team?" Don Brennan, Ottawa Citizen, 18/11/20).