There's no other way to say it. Last season's Toronto Maple Leafs' power play was horrible. How can a team have such great offensive players working together with the other team a player short and then come in 16th overall in the NHL rankings?
In fact, the poor power play is one of the things that cost the Maple Leafs the first-round series against the Montreal Canadiens. The Blue and White converted only 13 per cent (that's one out of every eight tries) of their power-play opportunities during their seven-game collapse to Montreal. It made no sense, yet it happened.
Related: Surprise, Maple Leafs' Newcomer Ondrej Kase Not Only Plays, He Scores!
The Maple Leafs' Power-Play Problem Needed a Solution
As a result, as this organization usually does, it went to school to study its own problems and came up with a solution. Thus, rearranging the Maple Leafs' entire power play was one of the top goals coming into the 2021-22 regular season. It looks as if they've made some changes, and it also looks – albeit using the very small sample size of one preseason game – that what they're trying is working. Now, the team just must keep it up.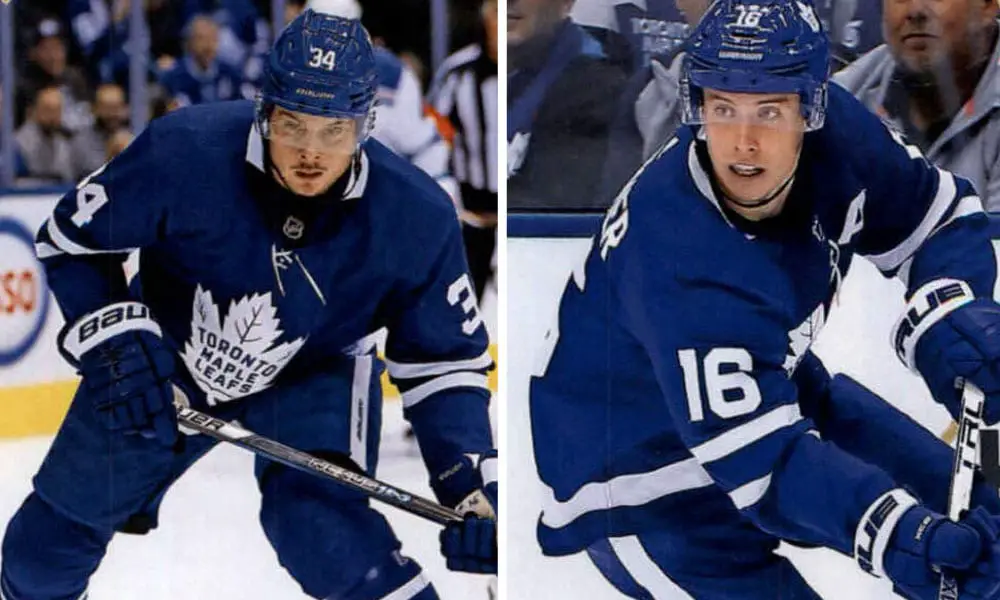 If You Can't Change Maple Leafs' Players, You Must Change What They Do
Because the Maple Leafs' coaching staff could not change the players, it had to change what the players did when they were on the ice. And that's what happened during the first few days of training camp. The player who engaged in the biggest change was right-winger Mitch Marner.
In a recent interview, Maple Leafs' head coach Sheldon Keefe explained why the coaching staff decided to test Marner in a new "bumper" position on the top power-play unit. And, contrary to the rumors circulating a few months ago, Marner is more than happy to give it a shot. Like any good team player and leader, he's willing to do whatever it takes to help the team improve.
Keefe Likes the Changes to Take Advantage of Marner's Skills
Keefe admitted that the change was something the team hadn't tried but wanted to look at. They put their heads together and felt like it was an idea that was underutilized by the team. And, best of all, it got the puck into Marner's hands in a space where he's shown plenty of ability. That's seeing the entire ice and sending the puck to the scorers.
Keefe noted that Marner was better than anyone the team had in terms of "getting out of tight spaces and creating a play that you would otherwise think isn't there."
As the new position for Marner is drawn up, Keefe believes it gives the team the ability to put two shooters on the flanks at the same time with Marner having the chance to distribute the puck to whichever shooter was in a better position to do damage.
The Maple Leafs' Power Play Has a New Coach
Assistant coach Manny Malhotra was moved out of the power play and Keefe gave the power-play responsibility to new assistant coach Spencer Carbery as his primary responsibility. Keefe admitted it was a "Tough conversation, you know, because [Malhotra] was brought here to do a job. But Manny's a team guy, and he's still very much involved in everything that we're doing off the ice, including the power play."
Keefe added that "Spencer's a great coach. He's got a good vision and a good plan and has that perspective as a head coach [with the Hershey Bears] in terms of how things play out. The biggest thing is just fresh voice, fresh eyes, good ideas. And just like it seems a good fit for us, given what we went through last season."
Power-Play Changes that Carbery Has Made
The critique of last season's power play was that it was too predictable. Marner always seemed to be seeking out high-scoring line-mate Auston Matthews. That became too easy for the opponents to shut down. Now with another shooter – most people believe it will be William Nylander – there's another option.
From the middle of the ice, Marner can either feed Matthews or Nylander for one-timers; or, he can fire the puck on net himself to either score or to create loose pucks for front-of-the-net players (Nick Ritchie or Michael Bunting) to score in close.
Keefe reported that the coaching staff likes what it has seen in practice so far, and "not just on the top unit but on the other groups as well." The focus has changed more to the interior of the ice. However, Keefe admitted "it's early."
From Marner's perspective, he believes the team is "just trying to find ways that I can help the puck away from the pressure and working to create an option where he "can get into a space where I can get shot off quicker."
Marner admits that "I've never played it (that bumper position) (and) to be honest so it's something new to me; but, new things to try are exciting." He anxious to give it a shot."
Related: Two Maple Leafs' Newcomers Who Are Keys to a Successful Season
Results So Far
Carbery has been showing Marner video of the Tampa Bay Lightning's Brayden Point's slot work on the Stanley Cup champions' deadly power play. So far, so good – even without Marner. During the first preseason game, with Nylander shooting from the flank the result was a John Tavares tip-in of a Nylander shot 10 seconds into the man advantage.
As teammate Morgan Rielly says about Marner: "He's just so smart, he can play anywhere. I think he just wants to be productive, be helpful. He wants to be in the middle of the ice, wants to get lots of puck touches, and he's very good at that."