Although the Toronto Maple Leafs lost to the Columbus Blue Jackets in overtime by a score of 4-3, the team's first line was productive. Center Auston Matthews scored once and added two assists. Mitch Marner had the play of the game when he threw a beautiful assist to Micheal Bunting for the tap-in goal. Bunting registered an assist to go along with the goal.
Bunting is a 26-year-old rookie, who kicked around the AHL in the Arizona Coyotes organization for several years. He had played a handful of games before he was an unrestricted free agent (UFA); and, during the offseason, he was signed by the Maple Leafs' general manager Kyle Dubas.
Related: Maple Leafs' Prospect Rodion Amirov Diagnosed with Brain Tumour
Bunting's Signing Was a Home Run for the Maple Leafs
Bunting's signing was a home run. He's come onto the roster; and, after playing in several different positions, he's eventually settled into a first-line role with both Matthews and Marner. Bunting is leading all rookies in goal-scoring with 17 (tied with the Nashville Predators Tanner Jeannot). He's also tied for third in points with 35 (the Detroit Red Wings' Lucas Raymond and the Anaheim Ducks' Trevor Zegras share the lead with 39 points).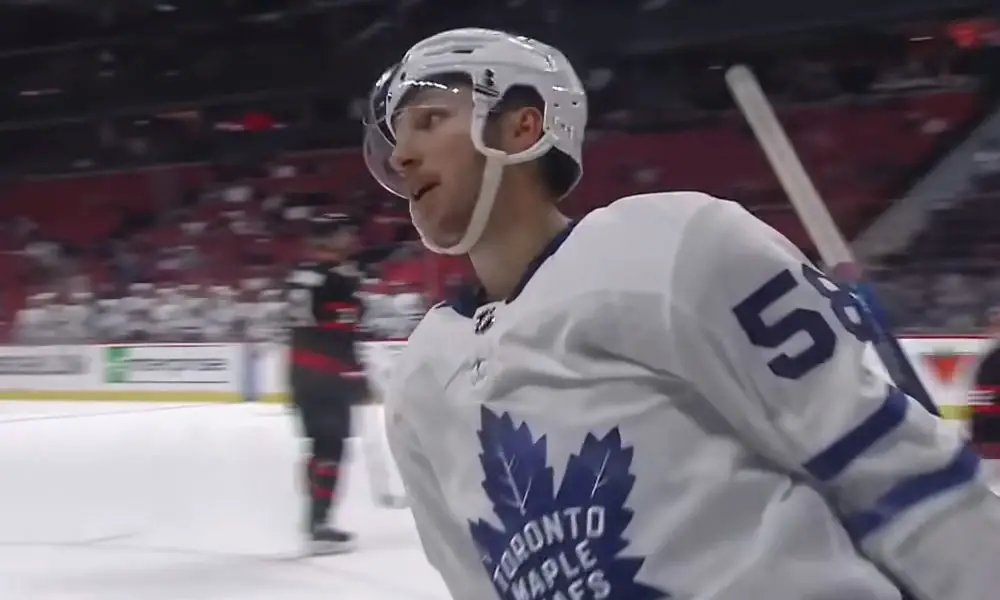 Although Bunting isn't likely to win the Calder as the NHL's top rookie because he's not the prototypical rookie given his age. But, that doesn't make his value to the Maple Leafs any less important. He completes the team's first line, and he does it for under $1 million a season. He's one of the best values in the NHL.
Bunting Is Working Out Better than Expected
Maple Leafs' nation was in angst last season when free-agent winger Zach Hyman decided to move west and signed with the Edmonton Oilers. Hyman was a fan favorite because of his dogged, blue-collar play and the fact that he dug pucks out for both the main scorers. How could he ever be replaced was the lament?
Some fans thought that he might be replaced by a committee that included the threesome of newcomers Nick Ritchie, Ondrej Kase, and Bunting. Perhaps together they could total the goal and assist totals of Hyman. We guessed wrong. Hyman is having a career season in Edmonton with 19 goals and 16 assists (for 35 points) in 45 games. However, that's exactly the same point total that Bunting has in 50 games.
That total is far more productive than anyone expected Bunting could be. The upside is that he's doing it at about one-sixth of the salary ($950,000 by Bunting and $5.5 million by Hyman). Bunting has given much more than was expected; and, he too has become a fan favorite. He's a pugnacious, get-under-the-skin of the opponents, penalty-drawing machine. This season only Connor McDavid had drawn more penalties than Bunting.
The Maple Leafs First Line Is Overwhelming the Opposition
As pointed out by The Hockey Writers Marko Zlomislic, the Maple Leafs' first line of Bunting, Matthews, and Marner have "overwhelmed their matchups to the tune of a 23-12 ledger in actual goals over 250 minutes of play. Their 5.43 goals per-60-minutes at 5v5 is third-most prolific among qualified trios, and their 62.2% share of the total expected goals tally (xGF%) ranks sixth in the NHL."
Although the value of any NHL team's first line is usually measured in is offensive statistics, the line is also solid on the defensive side of the puck. As Zlomislic points out, of "the 61 qualified lines, the Bunting-Matthews-Marner line ranks 22nd in chance quality conceded (xGA/60) and seventh in their rate of shots allowed (CA/60)."
In short, the Maple Leafs' first line is firing on all cylinders. Matthews and Marner have continued their strong partnership. There's also a good chance Matthews can win the Rocket Richard Trophy again this season and score 60 goals in the process. Marner, after a slow start, could collect 90 points. He's been on a tear. And the third member of that line – Bunting; well, he's doing ok, too.
Bunting's Style Is Suited for Playoff Hockey
What's most promising is that Bunting's hard-nose, get-in-front-of-the-net, chaos-causing style is perfect for scoring dirty goals. And dirty goals are often the difference between playoff success and failure. As the old Timex watch commercial noted, "it takes a licking and keeps on ticking."
That's Michael Bunting's game in a nutshell. He gets beat up every night in front of the opponent's net and he simply keeps on doing it – and smiling at the same time.
Related: Three Maple Leafs Takeaways from 4-3 Overtime Loss to the Blue Jackets