Obviously, when making assessments about the all-time best centers on any team historically, there's some motivation for even addressing the topic. And, I have to admit that the genesis of this topic comes from that fact that, when I look back at the all-time best centers this great historical – even iconic – Original 6 franchise has ever had, I believe that Auston Matthews will be or already has become the best of the group.
And, that's saying a lot. Some great centers have played for the Maple Leafs. Still, Matthews is that good. I think he's the best ever, and in this post I'll share why I think so.
Related: What's the Rank of Maple Leafs' Left-Wingers: The Answer, Who Knows?
Matthews Early History with the Maple Leafs
Here's why I believe Matthews is the best center in Maple Leafs history. First, as a rookie in 2016-17, he scored 40 goals and won the Calder Trophy as Rookie of the Year. During his second season, although he was injured he first averaged a point-per-game when he collected 63 points in 62 games. During his second season, he scored 34 goals – and that's been his lowest total in his five seasons with the team.
Furthermore, every season since his rookie season with the team, he's been over a point-a-game player. During his third season, his goals and his assists almost balanced out (he scored 37 goals and 36 assists for 73 points in 66 games). In season four, he collected his highest goal total ever (even though he was only 22 years old) when he scored 80 points (47 goals and 33 assists) in 70 games.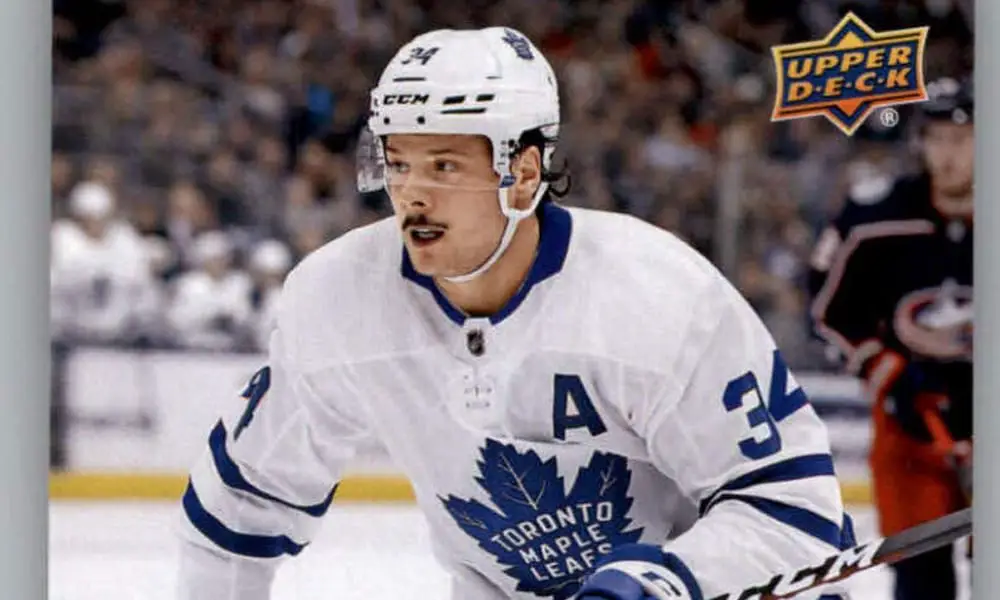 Last season, Matthews couldn't have had a better season. He scored an NHL-leading 41 goals (adding 25 assists for 66 points in 52 games). How big were those goals? Twelve of them were game-winners. At the same time, he also improved the defensive end of his game and is starting to utilize his great size to dominate on both ends of the ice.
Matthews Is Now Being Recognized By Others as a Great Player
Not that this is the biggest point in any debate about who the best Maple Leafs center in history is, but Maple Leafs' fans are far from alone in believing that Matthews is a great player. Earlier this past week, Matthews was revealed as the new cover player for EA's NHL 22.
Because the cover athlete is basically a sales connection, what that great honor suggests is just how marketable the company believes Matthews is. It's a measure of both the player's reputation as an NHL star and also his perceived popularity with NHL fans. Even more interestingly is the fact that this isn't the first time Matthews was chosen to be on the cover of an EA game. He previously was the cover athlete for NHL 20.
Other Great Maple Leafs Centers
John Tavares
Currently, the Maple Leafs have another great center in John Tavares. Tavares is now 30 years old and he just finished his third season with the Maple Leafs. Already with the team, he broke his career goal-scoring record by scoring 47 goals during his first season. He also scored 88 points, which broke his previous record by two points.
Because Tavares is signed to a no movement clause and because he's always wanted to play with the Maple Leafs, it's likely that he'll stay with the team a long time. He's been the team's captain for the past two seasons; and, while he's not as big, strong, and flashy as his teammate Matthews, he's consistent and has been throughout his career. Should his career not be shortened by injury, he'll probably be remembered as one of the great Maple Leafs centers of all time.
Other Great Maple Leafs' Centers in History
Dave Keon
In 2016, the same season that Matthews began to play, CBC Sports named Dave Keon as the best Maple Leaf player of all time. During Keon's time with the team, the Maple Leafs enjoyed some of their greatest success by winning four Stanley Cups. Because his career spanned 15 seasons with the team, he's a leader in many of the team's scoring categories.
Keon is the only Maple Leafs player to win the Conn Smythe Trophy as the Stanley Cup Playoffs MVP. Like Matthews, he was the NHL's top rookie in 1960-61. He was the Maple Leafs' captain from 1969-1975.
Darryl Sittler
Darryl Sittler Maple Leafs' career lasted 12 seasons. During 10 of those seasons, the Maple Leafs made the playoffs. Sittler was a top-10 finisher for the Hart Trophy five times and scored 40-goals five different seasons. He holds an NHL record that will likely never be broken: in 1976, he scored six goals and four assists (for 10 points) in one game against the Boston Bruins.
Mats Sundin
Mats Sundin was an amazing player for the Maple Leafs; but, in his time with the team, it wasn't nearly as successful as either Keon's or Sittler's. Instead, he played there during a playoff drought. Still, during his 13 seasons with the team he became the Maple Leafs' all-time leader in goals (420) and points (987). He was the team's captain from 1997 to 2008.
My Final Assessment
The Maple Leafs five all-time best centers in history are or have been excellent players and good leaders. My personal take is that John Tavares will rank among these players if his Maple Leafs' career continues. I believe he clearly wants to remain with the team and is of star quality.
In my own final analysis, although Matthews is still only 23 years old and to this point might not have become the team leader some of the other Maple Leafs centers have been, I believe he'll become the highest-scoring center in team history. For me, that makes Auston Matthews the best of the bunch.
Related: Is Maple Leafs' Adam Brooks Ready for a Breakout Season?