As per Ian Mendes, Ottawa Senators' forward Brady Tkachuk went out of his way to say the players need to shoulder the blame for the losses that are piling up in Ottawa. After another loss — this time to the red-hot New Jersey Devils on Saturday afternoon — Tkachuk said the 5-1 loss is on them. He noted, "It's a Saturday afternoon and close to a sellout (crowd). It's on us for not getting ready. It's on me for not helping to get the group ready. So I'll take responsibility for that one."
Tkachuk went out of his way to shift the blame off of their head coach and said he's "sick and tired" of the negativity being tossed at D.J. Smith on social media. "There's nobody to blame but ourselves as players," he said. "It's my job to get everybody ready….it's not one person. It's a group in here that needs to figure it out."
While it doesn't change the fact the Senators keep losing, it's a good sign that Tkachuk is showing strong leadership and trying to take a bullet for his coach. As the captain of the team, he knows it's his job to do something about the way that things are going, even if Smith is ultimately relieved of his duties. Smith has been pegged as the problem, simply because expectations in Ottawa were high this season with some many big pieces added over the offseason. There have been injuries, but this team should be better than it is performing.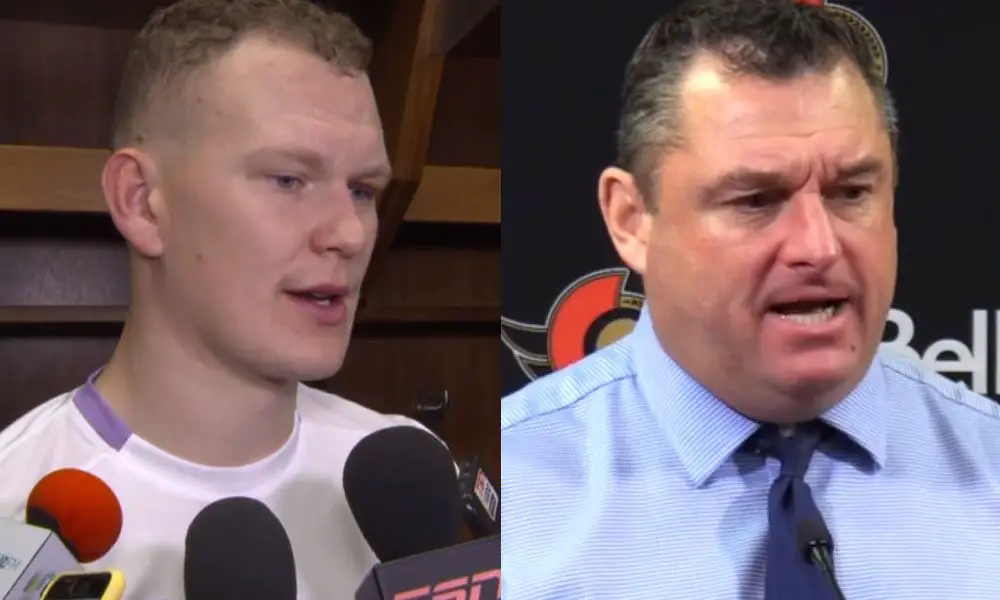 Smith said, "We shot ourselves in the foot though. We make a mistake on the penalty kill and it winds up in the back of our net." He added, "Then we've got all the momentum at the end of the second period and it winds up in the back of our net shorthanded." When asked if he believed frustration might be creeping into the room, Smith didn't think so as the Senators had won two of their last three games heading into the matchup with the Devils. Smith suggested the Senators just weren't patient enough on Saturday and they turned too many pucks over.
The Senators are now 6-9-1 on the season and sit 8th in the Atlantic Division. This is a team that many had pegged to possibly make the playoffs. They've been rumored as a team looking to add to their blue line and possibly add due to some key injuries early in the season.
Next: Canadiens Could Be In the Market To Trade a Scoring Forward